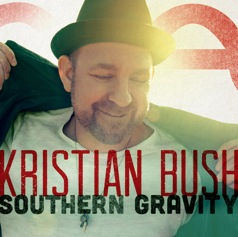 Well known as one half of Sugarland, Kristin Bush is preparing to show the country music audience his voice with his new album Southern Gravity. The album, produced by Tom Tapley with executive producer Byron Gallimore and set for release April 7th, contains twelve tracks all co-written by Bush. Already scoring a Top 20 hit with "Tralier Hitch," Bush took the time to speak about the album, including his excitement for the release, it's unique moments and more.

Congratulations on the album, which is just really fantastic. It seems like every track has the potential to be a radio single.

I love you for saying that (laughing)! I'm glad that you feel that way. I love being on the radio; I think it informs what I do, so [with this record] I was trying to make music that would be played on the radio, but I also tried to make music that I knew I would have to play in front of people for the first time knowing they never heard it before. I wanted songs that were as memorable as possible and very sing-able because I need people to sing them back to me by the second time the chorus comes around.

Having been in two duos, this is the first time we get to hear you at the forefront. Is it nervous, exciting or a bit of both?

The nervous part is hearing people's reactions to figuring out that I can sing! Overall, I'd say it's very exciting! I can't wait for people to hear the album and react to it. I want to know what it makes them feel like because it makes me feel very happy.

It is most definitely a very happy, positive record with a great energy. Is that reflective of where you are personally?

Yes! It's exactly where I am sitting. I'd hoped to put as much joy into this record as I could. It changes you when you play it and perform it every night. It does something to you that's hard to explain. It might be a hokey way to say it, and without trying to make it sound like a self-help book, but the record is very healing.