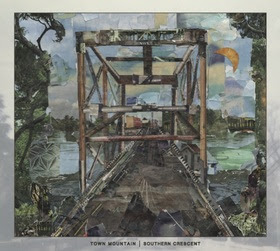 ​The recipient of 2013's International Bluegrass Music Awards Momentum Award for Band of the Year, Town Mountain, will release their new album, Southern Crescent, April 1st . For this new project, the five-some - Robert Greer [vocals and guitar], Jesse Langlais [banjo and vocals], Bobby Britt [fiddle], Phil Barker [mandolin and vocals], and Nick DiSebastian [bass] - worked with producer Dirk Powell at his Cypress House studio in Louisiana to produce a collection of soulful, raw and energetic roots-grass tunes. In advance of the release, Jesse Langlais kindly took the time to talk about working with Powell, finding their sound and more.

Southern Crescent is your fifth album and it seems like you guys did some things differently with this one, like working with producer Dirk Powell. Why did you want to work with him, and what did he bring to the project?
​
During the initial planning of the album, we were trying to figure who we wanted to produce it. We play bluegrass, but our influences run much deeper than that. We wanted someone who understood all of the musical genres we loved and who was considered more of a roots musician and producer as opposed to someone who was just a bluegrass musician or producer. Dirk's name kept coming up, and he was the one we unanimously decided upon. We all really respect him, and thought he would understand our music maybe more so than other people.

I think our influences as well as other elements are really incorporated in this record. Too often bluegrass is just "sit down, be polite and listen to it" music, and that's certainly not who we are or who the band is, especially at a live show, and we wanted to convey those ideas on this project.