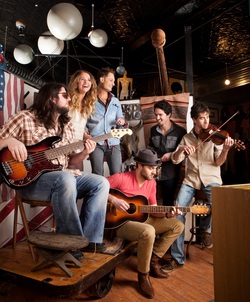 On April 14th, Minnesota based band Maiden Dixie released their sophomore record, UNSAFE & SOUND. The record, which contains eight tracks, is a diverse, yet united one. It hits everything from rock and country to bluegrass and gospel in tracks that are both raucous and emotional. Lead vocals are shared by Channing Himes and Jesse Becker while players Drew Sherman (bass), Jonathan Krentz (guitar), Zachary Scanlan (fiddle) and Tyler Kloewer (drums) round out the sextet. Band member Tyler Kloewer took some time to talk about their roots, the record and what's ahead.

For fans who might be new to your music, can you tell us how the six of you came together to form Maiden Dixie?

Well, I am originally from a small town in Iowa with maybe 200 people. There was not a huge music scene there, so I moved to St Paul and studied at McNally Smith Music School. It was there I met Jon and Channing. We played with one another in recitals at school, but I was in a different band at the time. A couple years later, their drummer ended up moving on as did my singer; the position opened and I started playing with them. I actually didn't know country music that well at the time, so I was a little nervous going into it--not about playing, more about the knowledge of country, but I really got to dive deeper into it.

Before I joined, the band had been playing together for about two years. Drew and Jon served in Iraq together and played in the army band. When they returned they thought about how much they liked it and wanted to start a band over here. They called in Jesse and Zach and at some point grabbed Channing to sing and here we are.

Prior to joining Maiden Dixie and focusing on country music, what were the types of music that you were performing?

I was doing a lot of different stuff. I was trying to pave my way in the jazz scene. I also played in a pop cover band and started an original reggae band. All of those bands were fun, but they had no clear direction. I wanted to make music a full time gig for myself.

All of you come from very different musical backgrounds; that certainly must have an influence on your sound.

Yeah absolutely. It's funny because we literally don't listen to anything when we ride together to shows. Well, maybe country because we can all agree on that! I'm actually a huge pop fan so I love Bruno Mars, Justin Timberlake and Sam Smith. Drew's taste is very avant garde, he likes guys like Frank Zappa. Zach just listens to classical music. Jesse loves country, Jon likes a lot of classic rock and Channing, she's a rocker at heart, but she loves Miranda Lambert and Carrie Underwood. Our influences are all over the map which is great because everyone sort of loves it all.