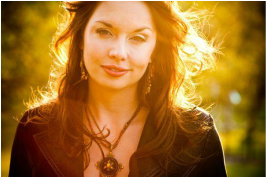 Singer-songwriter
Shalo Lee
recently released her debut album,
Hometown Girl,
which is an emotional collection that blends Americana, Folk, and Country through stories of personal, yet relatable, life experiences. Displaying a firm grasp on the ups and downs of road life, chasing dreams and relationships, the Minneapolis-based Lee graciously took the time to discuss the album, the stories behind the songs and more.
You started singing at a very early age. Was music something that you always wanted to pursue?
My sister started teaching me to sing around eighteen months old - before I could talk. I was reading early too and was always writing stories and poetry, but kept them to myself. I initially went to school for the visual arts, but the music was pulling me harder, so I ended up giving up the visual arts and pursuing music.
I was painfully shy as a kid, and still am, but I've gotten a lot better with time. I purposefully put myself in situations that were uncomfortable - kind of like a social boot camp - to get myself out of that shyness because I knew I would never do well unless I got over it. It was really hard to get up in front of people and sing at first, but I felt like a better version of myself on stage. I could express how I felt about things and release emotions, whether it was frustration or happiness or whatever I was feeling that day. Performing and songwriting became great outlets for me
You mentioned that you kept a lot of your writings to yourself. What finally spurred you to make the record?
I had always written poetry and stories, but I never really put them to music because I was scared. It was something I always wanted to do, but I was shy, afraid of criticism and didn't really know how to attack the process. When I met Owen [Satori, writer/co-producer] and Ken [Valdez, singer/songwriter/guitarist], we immediately bonded. They recognized my abilities and helped me create the songs. They got that fear out of me which was an unlocking that needed to happen. And once that happened, all of the stories I had built up started coming and once I got started, I couldn't stop.
(laughing)
I write all the time now with and without them.