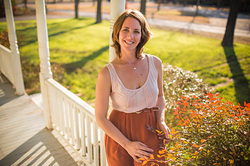 A familiar voice on the Texas music scene, Jamie Lin Wilson has been making music for quite some time, first as a member of The Gougers and then as a part of the all female quartet, The Trishas. On May 19th, she released her first full length album, Holidays & Wedding Rings. The album, a collection of twelve personal yet universal songs that highlight love, heartbreak and family, showcases Wilson's ability as a songwriter to connect with the listener through voice, lyrics and melody. The busy mom of three graciously took the time to talk about the album, keeping family a priority and more.

Congratulations on the release of the lovely Holidays & Wedding Rings. How exciting must it be to have finally released your first full length solo record?

Man, it is such a relief. I think that's the word that I'm looking for (laughing). It's very, very exciting, which is an understatement because I've been waiting for this day for so long. I've had the record in the can since October, but I had a baby at the end of August and I could not physically release it until….right about now (laughing). I've been waiting for everybody to hear it, and what makes it even better is that people seem to like it.

The album was funded via a Pledge Music campaign. How did you find taking that route to make an album?

It was really, really good. It was nerve wracking for real (laughing), because if you don't get all of what you have asked for, you get nothing. You have to make sure that you ask for the right amount, that it's enough so you can do what you need and want to do, but you also have to make sure it's not too much so that you wouldn't meet your goal.

It's also putting yourself out there. It's one thing to make something and then sell it and say, this is what I've made would you like to buy it from me, like past business experiences. In this case you're asking people to give you money beforehand and put their faith in you that you will make something that they like! This seems to be the way things in the music industry are going right now though. It's really hard to get people to buy an album after it's made because you can listen and get it for free. People buy music on iTunes all the time and that's great, but it's more and more expensive to make a record and cheaper to get the music after. You have to sell way more albums in order to make what you put into it, but people seem to want to be a part of what you're doing. It's nerve wracking to ask people to help, but they want to do it; they want to help you realize your dreams. It was a really, really great experience.

The campaign was over 100% successfully funded, which speaks a lot to your fans and friends.

Yeah it does. And you know what? I sent all of the packages out myself, so I had to physically put in all of the addresses and look at every name; and looking at those names was so cool. There were a lot of people whom I didn't know, a lot from out of state and even out of the country. Then there were also people whom I grew up with and haven't seen in many years. It was so nice to see every name and notice every person. I was overwhelmed by the amount of support I got not only from the small town that I live in now but from the small town where I grew up.