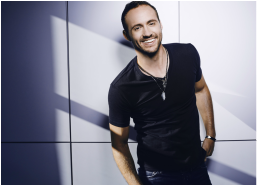 Country newcomer Drew Baldridge will release his full-length debut album, Dirt On Us, on June 10th. While the first single from the project, "Dance With Ya" is climbing the charts, Baldridge is gearing up for a busy summer that includes stops at CMA Fest and the Grand Ole Opry. In advance of the release, Baldridge kindly took the time to talk about the record, making his Opry debut and more.

​Congrats on being named One to Watch by numerous publications as well as one of CMT's Listen Up Artists. Are the accolades pleasantly surprising?
​
They are very pleasant surprises. They really make me want to put out the best music I can because I want to make sure that all of those publications were right about me!

You know, I moved to Nashville five years ago and have been working really hard, so finally being able to see the fruits of the labor is very, very exciting and very humbling. I definitely feel I am on the right path and feel very blessed.
​
Previously, you released a few EPs, so why was now the right time to put out a full-length record?

It was the right time because I actually have a record deal and I finally have the music - that really tells who I am - for a full-length project. I wanted to make a diverse record that shows that I'm not just this guy who dances around onstage all the time; I wanted it to have depth too. There's music on here that is a bit different for country music – it's what I like to call "funktry" - but I always go back to my roots, especially in songs like "Tractors Don't Roll", "Dirt On Us" and "Town The World Forgot" that explain where, and how, I grew up. I've been working really, really hard to make sure this record is perfect for my fans, and I think we nailed it.