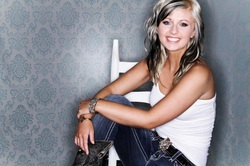 Still in her teens, Abbi Scott realized her love for music as a child. The Indiana native, and recent high school graduate, has been balancing school with a music career for quite some time. Now, this hardworking musician has her feet firmly planted on the ground and her sights set on Music City. She recently took the time to chat with us about music, her influences and what's ahead.
Tell us a little bit about yourself including when you knew that you wanted music to be your path.
I have been performing music for as far back as I can remember. I always knew I wanted music to be my life and never really thought about doing anything else. I started singing as soon as I could talk and begged my parents for singing lessons! I didn't sing at school, but I did sing the national anthem at ball games and traveled to perform on the weekends. Initially, my family may have thought I was crazy, but they have been awesome and have supported me every step of the way.
Why did you gravitate to the country genre?
I like all genres, but I was raised on country, which was what my mom listened to, and 80's rock, which is what my dad listened to. These genres greatly influenced my sound. I love Kacey Musgraves, Tammy Wynette and Motely Crue! My other influences include Miranda Lambert, Martina McBride, Aerosmith and Poison.
I think my sound is all my own and can't really be compared to anyone. I think it is like if all of those artists I mentioned had a baby....my sound is what you would get!
Now that you have graduated high school, what are your plans?
It has been tough balancing a music career with high school, but now that I graduated I think it will be a lot easier. I am moving to Nashville to attend college to study public relations, but ultimately I would like my music career to take off and be my life. I love it in the south, especially Nashville!
You started going to Nashville to co-write at such an early age. How did you find writing with other songwriters?
It was both exciting and intimidating because I was so young and the writers were so much more experienced! It was, and still is, such a privilege to work with such amazing songwriters to this day.
You released your debut EP in September 2013. That must have been a terrific moment.
It was pretty cool! I attended a public high school and people would come to me in the hallways and tell me how great it was that I released an EP. The EP helped me get my name out there and more people were able to hear my music.
I look forward to putting more music out as time goes on. In fact, I am getting ready to go back into the studio next month for my new project with legendary songwriter Philip White. I am so excited!! It is still a work in progress; we are not sure how many songs, or which songs, will be included. I write, but am open to having songs written by others on the record as well. I just want to choose the songs that have the best chance of getting on the radio and for people to hear them.
You have supported Luke Bryan, Dustin Lynch and Lee Brice, among others. Tell us a little about those experiences.
Each show was a great learning experience. I loved opening for Luke, Lee and Dustin, and everyone; it was so much fun!
I have never been nervous to be on stage and perform; it just came naturally. The stage is home to me. I love to entertain, which goes hand in hand with singing. I love being in front of people and making them happy with my music and shows.
You have quite the following on Twitter with over 13K followers. Talk about your fan base.
I grew a large fan base because every day I work at all social media. I believe all forms of social media are such a huge part of music right now, in every genre, because they really put your name out there. I also love to interact with the fans any chance I get. The fans
are so important to me because I wouldn't be where I am without them. I am very grateful for the fans and cannot thank them enough for all that they do for me.
Finally, we always like to know, is there is a current album that you cannot stop listening to?
That's a hard question! I like so many, I don't think I can pick. I do like Miranda Lambert's very first album a lot. It is an awesome album that really influenced me!
For more information visit Abbi's
official website
Find her on
Facebook
Follow Abbi on
Twitter