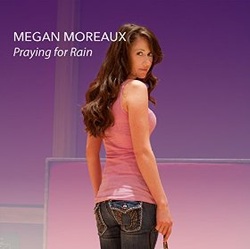 Born in California, Megan Moreaux found country music as an escape from her traumatic childhood. Coming from an unstable family environment, a Mom who left her at an early age, a father who sold drugs for a living, and a childhood full of physical and mental abuse, abandonment, and neglect, Megan found solace with her Aunt when she was five. For the few months she spent with her, her aunt introduced her to country music. Megan's journey, one of courage, perseverance and faith ultimately led her to a career in music. In addition to releasing her debut EP Praying For Rain in 2014, she found herself opening for Martina McBride. With what looks to be a big year, Megan took the time to speak about her past, wanting to inspire, the music and more.

You had a very traumatic childhood and a lot of times people in those situations tend to go in one of two directions. Where you are now and what you have accomplished really are testaments to your strength.

Thank you. I wrote "Finding My Own Voice" for that reason. People can go off the deep end and blame their past when they don't realize they can choose to make their lives different and not be a victim of their past. The whole goal of why I want to do music is to help inspire people, to let them know that they have hope and that when something bad happens it's not the end of the line.

Megan's struggles continued throughout her childhood. With the combination of needing 24 hour bodyguards because angry drug dealers were attempting to kidnap her to get to her dad, being held at gun point and questioned by the DEA, her father being arrested and put into federal prison, and being in abusive relationships, Megan temporarily lost her strength. She decided she wasn't able to deal with everything, so she attempted to take her own life. In this attempt she had a realization that something was seriously wrong. There was something missing, but there was hope. A few days later she was called out in a crowd where she knew no one, and no one knew her, by a pastor who said the Lord told him she was attempting to take her life but God wanted to redeem her. After a struggle with embarrassment and hesitation, she found redemption, love, joy, hope, and purpose in Jesus and devoted her life to Him from that moment.

A turning point for you seemed to be that moment when you were in the crowd and the pastor called you out about taking your own life. That seemed to be divine intervention.

It was miraculous to say the least and it's all been a crazy miracle since then as well. I had tried to take my life the week prior and that was God saying "if you don't want your life then why don't you try giving it to me and try seeing what I can do with it." It was ultimate divine intervention.