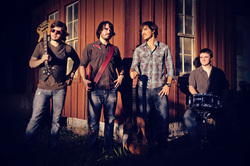 Over the past year, the Cody Bryan Band has been gaining new fans all over Texas, Oklahoma and beyond with their fresh take on Texas country. The foursome have supported some of the biggest names in the Texas music scene and recently entered the Texas charts with their single "Wreck Me." Front man Cody Bryan took some time to talk with us about the band's beginnings, the album and what's ahead.
Originally, you guys were a rock band. How and when did the Cody Bryan Band as we know it come into being?
We all grew up in Austin and started playing the alternative rock scene, as a group called Aimless Gun, when we were in college. That band consisted of the same guys that are in the Cody Bryan Band [myself, Zach Lynch, Miles Barker, and Casey Conway] now. The chord structure and lyrics in our songs for Aimless Gun were definitely country, but our bassist and drummer, who grew up listening to Metallica and rock music, were hesitant to actually play country music. Then, about two and a half years ago, we just decided to fully embrace it [country music]. We wrote a completely new set of songs, changed our name to the Cody Bryan Band and here we are.
I read that you yourself became hooked on Texas country after seeing one of the many free shows in Austin. Was there any artist in particular that tipped the scales for you?
There were three: the Randy Rogers Band, Wade Bowen and Cross Canadian Ragweed. All three of those guys were my biggest influences in high school, and still are.
Your album Wreck Me was released in May of 2013. How did you initially connect with your producer Matt Noveskey?
Matt is from a very successful band called Blue October. He had worked with us as Aimless Gun and helped me encourage the guys to change our focus to country. He believed that we could really be successful if we let the music do what it wanted to do naturally. He is a terrific guy with a great musical ear who helped us bring a fresh, genuine sound to the record; a sound that is somewhat different than what you might typically hear coming out of Texas.
We actually went into the studio with Matt and cut the record before we ever played any of the songs live, which is really different than the way most bands go about it. We felt like we had a lot of strong songs on the album and are really super happy, and proud of, the way it all turned out.
Many of the songs on the album are about relationships, both good and bad. Are they written from personal experience?
I went through a tough break up a few years ago and I guess the timing was right with having a broken heart and writing songs. There is a theme throughout numerous songs on the album of struggling with relationships and bad break ups, but I would consider
Wreck Me
an easy listening record; it's not sad music, it's actually pretty upbeat.
I co-wrote all of the tracks except two. One is "Why God Made Saturday Night," which was written by Monte Warden of The Wagoneers. We didn't have a good party song for the album and that song was a perfect fit. The other song is "When We Were Made," a really touching ballad, which was written by Paco Estrada.
Your current single, which is also entitled "Wreck Me," is in the top 40 at Texas radio.
"Wreck Me" is our first legit single and having it chart is really, really cool. We did our first radio tour, which lasted about a month and a half, for that song. It was a lot of driving, I put almost 5000 miles on my car, and a lot of unusual hours. We were getting up at 6am and singing at 7am, which is unheard of! Singing the first couple of songs so early in the morning, you're like "what is my voice doing?," but we really enjoyed getting out there, promoting the single and meeting people.
In addition to the single and the radio tour, you guys have had such a busy year touring and supporting some of the luminaries of the Texas music scene.
We have been non-stop busy! We have such a great team around us now, including a great booking agent, radio promoter and manager.
We have been getting out every weekend and touring all over. We have gotten to support so many of the artists that we admire too! We opened for the Randy Rogers Band at the Nutty Brown Café, which was epic! He is my biggest idol in the country world; to be able to open for him and then meet and talk with him after the show was just incredible. We are learning so much from the artists that we have been opening for; everyone has been more than willing to show us the ropes and welcome us with open arms. There are a lot of bands out there [in Texas] and we feel like we have been welcomed into a really nice family.
Are you currently working on new material?
We are getting ready to go into the studio at the end of month to start on an EP. Then, we are planning on a full length record for early next year, around springtime.
Finally, is there one record that you cannot stop listening to?
Will Hoge's
Never Give In
. I have never heard a bad song from Will. We opened for him twice and he and his band just smash it! Will is incredibly talented, and a super humble and nice guy!
For more information visit the Cody Bryan Band's
official website
Follow them on
Twitter
Find them on
Facebook
and
Instagram
Purchase
Wreck Me
here