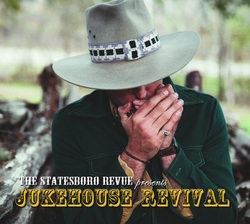 It has been two years since The Statesboro Revue's last record, Ramble On Privilege Creek, and the band is currently readying for the imminent release of their third album--the lively, groove fueled, and soulful Jukehouse Revival--on August 7th. Having returned from a successful run in Europe, front man and principal songwriter Stewart Mann graciously took the time to talk about the album, including its specific influences, the story behind the title and much more.

A few weeks ago you guys returned from your second incredibly successful run in Europe where you have an ever expanding fan base. How was the tour, and what makes going there so special?

It was our second tour over there, and we did pretty well. We played in some different towns and had some of our best shows in Sweden and Denmark, which was great considering we had never been there before. We were there for about two months, and we played almost every single day--close to forty shows in fifty days, which is crazy.

The people there appreciate music, and from what we gather, don't get it very often. They were really appreciative of us being there and supported whatever we decided to do, even within one show, not just record to record. Some of the shows we played were on a Monday or Tuesday night, when you would expect there would be no one there, but they were almost sold out, which is pretty impressive. For some reason, they've really latched onto our music. We definitely love the folks over there.

Sounds like a great tour.
Onto the new record, Jukehouse Revival, which releases August 7th. A lot of artists say "this is our best album yet," and listening to yours, I think that statement really rings true here.

I really appreciate that. We've yet to achieve a massive amount of success to the extent that none of us have to do any side work. We are playing our butts off trying to make a living, and to this day, I'm always nervous about what we do and the songs we write. You go into it trying to write the best songs you can and make the best record you can and just hope that people appreciate this record the same as, or even more than, the last.

We do feel like it's our best work. Having done this for many years and having the time in between records, we always try to get better as songwriters, performers and musicians. You go into the studio, roll the dice and pick your ten, twelve or however many songs you put on the record; shoot for the stars and hope that you don't disappoint anybody. Obviously, as an artist, you love the songs you put on a record and that's why you put them on there; you think they belong there, but you never know until the record is out.