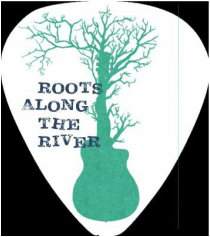 James Ramsden's years in Texas built a passion for the singer-songwriters he heard in the region. In 2014, Ramsden along with partner Chris Spindler, began Roots Along The River, a music series on Long Island that brings the singer-songwriters of the Hill Country to New York, performing in a truly unique setting. Ramsden took the time to speak about his love of music, the series, its challenges and rewards and more.

What inspired you want to begin a music series on Long Island?
I grew up on Long Island in a family that was very much into music. My parents liked the old country music - Patsy Cline, Tex Ritter, and Hank Williams; Willie Nelson was about as young as it got in our house (laughing). Later, I moved to Texas and met my wife and began listening to Nanci Griffith, Robert Earl Keen, and Townes Van Zandt. It was eye opening stuff because music, and how they promote it in Texas, is just a different world. There was a station, 98.7, that played basically Texas artists, mixing the young guys next to the old - there'd be Jack Ingram and Pat Green alongside Rusty Weir, Tommy Alverson, and Larry Joe Taylor. Plus, we lived outside Austin in the heart of the Hill Country where music is everywhere. We got to experience so many live shows of bands playing original music, like Stoney LaRue and CCR and Reckless Kelly. Years later, we moved back to New York to take care of my father and we realized we really missed the music, which is a lifestyle down there, as well as the interactions with the artists.
​
And so a few years ago you started a series, Roots Along the River, at Peconic River Herb Farm.
Peconic River Herb Farm was a place my parents took me to when I was younger. It is a beautiful fourteen-acre paradise with a log cabin, barns, and greenhouses. It's run by a woman, Chris Spindler, who would visit Texas and bring back things to sell, like boots, clothes and repurposed yard stuff. She also liked the music down there and we started talking. I felt that her place really called for music. She was interested and so we started planning. I didn't know if we could do it, but I stumbled into a situation and reached out to Adam Carroll, who I spent years in Texas trying to see, and surprisingly, he called me back. It started from that one show two years ago and today we are in our third year with four shows planned beginning in August.