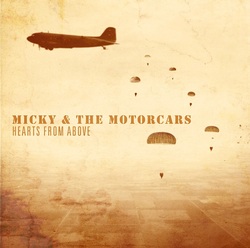 Micky and The Motorcars have been rockin' the Texas music scene and beyond for over a decade. Brothers Micky and Gary Braun, along with fresh recruits Dustin Schaefer (lead guitar), Joe Fladger (bass), and Bobby Paugh (drums) released their seventh record, the stellar
Hearts From Above,
this past July. Their current single, and title track, continues to makes it's way up the Texas charts while the guys are out on the road on the
Livers of Steel Tour
. Front man Micky Braun graciously took some time from the tour to talk about the album, writing and his favorite event of the year.
This year is turning out to be an incredibly busy one for you guys. Right after releasing the album and prior to starting the tour, you were in Idaho for the annual the Braun Brothers Reunion Festival. Is that one of your favorite events of the year?
Oh absolutely, it's my favorite weekend of the year. I look forward to it and as soon as it's over I'm bummed out and I can't wait until the next one.
Do you get to return to Idaho often?
I do actually. I'm in the works of building a cabin there and I go up as much as I can, maybe four to five times a year on my short little stints when I have three or four days off.
Knowing that you and Gary became involved with music at such a young age, was there ever another path either of you considered other than music?
We've done some different things. I built houses for a few years while playing music and Gary did a lot of horse guiding and guiding people in the mountains for awhile, but for the most part I kinda always knew this is where we would end up. It's where my heart has always been anyway.
Micky and The Motorcars have been together for over a decade. Seeing how bands come and go what does it take to keep going?
Well, a lot of hard work and dedication basically. There are a lot of good times and bad, a lot of ups and downs, but for the most part we just keep focused on our goals which have always been to just keep climbing, play bigger places, gain more fans and make better records.
The Motorcars latest album, Hearts From Above, was Kickstarter funded. Since it was the first time you went that route, how was the experience of doing it that way?
It was really cool. I didn't know much about Kickstarter before we did it, but after learning about it, I liked the whole concept. It was fun to be able to involve the fans a lot more than we ever have before and get everyone excited and on board way before the record came out. All in all, it was a fantastic way to do it. It helped us out a lot because we couldn't have done it otherwise.

The initial goal of the project was surpassed, which speaks a lot to your fans.
It does. I set the goal a little lower than what we really needed, because I just didn't want to ask for too much. I wanted to get it recorded and was going to figure out how to do the rest from there. [The extra] helped out with radio promotion, and filming the music video for "Long Road to Nowhere," which we will hopefully get out on CMT in a few weeks. It was really an extra bonus for us and allowed us to push the record the way we wanted to.
Have you found the response from fans to be that they really enjoyed being part of the process?
Absolutely. People often come up to me every day saying they were a Kickstarter and what package they bought. They'll thank us for letting them be a part of it and putting their name on the record. It's really cool.
The record had really nice debuts on Billboard and iTunes, which must have been really exciting! Were you at all surprised?
When I heard that it charted at #2 [on the New Artist Chart], #17 on the Country Chart and #150 in the Top 200, I was quite shocked to be honest with ya. For a bunch of kids from Idaho, it was really great.
You have said that there is a renewed energy with this record. What makes that so?
The whole process in general was a lot of fun and a lot more relaxing than normal. We had set aside enough time to focus on the record and really get it done right. It was great for me to be able to work with the new band [since 2011's
Raise My Glass,
MMC added three new members] because even though we have been on the road together for a couple years, I had never done a record with them. It was fun to get in the studio with them and see what we were all capable of doing together. Working with Willy as producer and Cody playing and singing was awesome too. The record just really ended up the way I wanted.
You often write with Willy, but this was his first time producing one of your records. It seems you guys are genuinely supportive of one another. How was the working relationship in the studio?
Willy and I get along really well. I get along with all of my brothers, probably more so than most families do, but Willy and I have always kinda had the same brain. I don't know what that is all about, I guess mom and dad's genes
(laughing),
but we have always listened to the same music, had the same styles of writing and the same ideas of what we liked in our records and how we wanted them to come out when were doing our separate projects. Working with him was one of those deals where it was a real easy match.
Even though there are some serious songs on this record, the overall feel is a bit lighter than previous Motorcars' albums.
Absolutely. That was kind of a big part of this record. I was basically writing in a better place and the record is a lot more on the happier side. I had gone through some pretty heavy stuff a few years ago, lost some friends, some girlfriend stuff and this time I'm in a good spot and the band is too. I think it shows in the record and in our live performances.
Hearts From Above is a solid listen start to finish, but "Hurt Again" seems to be a fan favorite. What is the back story to that song?
I actually started writing that song in Montana about three years ago. I was tinkering around, wanting to do something edgier. I kept going back to it, but couldn't figure out how to finish it up and never really could. I had called up Jason [Eady] to come down and write, not really even realizing what we were gonna work on, and I was like 'hey I got this one song I started 3 years ago…' and he loved it. We worked out the quirks and finished it up. Then I brought it to Willy, who wanted it to be even more rock and roll than I was even thinking, but that turned out to be the right direction for the song. It was a lot of fun.
You also collaborated with Brian Keane on three songs. Did you set out to write a lot with him or did those songs just click for the record?
He and I are good buddies who both live in Austin. We just get together, drink some beers and usually that turns into us writing a song. You know with him, we don't set up songwriting times; we just get together without any pressure, which is probably why those songs end up making the record as some of my favorites.
Do you prefer co-writing, writing solo or does it just depend and has your writing changed over the years?
It really depends on the writer. If I'm writing with a good buddy of mine I love it, but if it is a forced thing, I hate it. I tried co-writing in Nashville and they wanted a cut for a particular artist and I wanted a Motorcars cut; it just didn't work.
My writing changes every year really, because it goes with what we're going through and what happens in life. Some years I'm in a rock and roll mood and some years I'm in a ballad mood. I never really know what's gonna come out and I think that's good for the fans and the band. We want to keep our sound, but at the same time not put the same record out over and over.
"Tonight We Ride" has been getting a huge response from the fans when you perform it live, but now that you have been playing other songs from the record is there one that is going over really well or better than you expected?
"Hurt Again," definitely. That song is probably gonna be our big one for the live show, it's just a just a rock and roll song and the response to it has been great. "Long Road to Nowhere" is going over really, really well too. That will probably be one of our more popular ones that we'll have to play and if we don't, we'll get the 'why didn't you do that one?' from the fans.
For this particular tour, I am keeping the same setlist because of the large distances between venues and my brothers and Cody [Canada of The Departed] are all coming up and jamming, so it's easier to keep it the same. With a Motorcars show though, I write a different set list every single night, which keeps it fresh for the crowd and for us.
The lighter feel of the album is also seen in the cover art. Who designed the artwork and what is the significance?
A good friend of ours who used to work with us way back, Betsy Baird, who also did the covers for
Careless, Naïve
and
Live at Billy Bobs,
designed it. I called her and said that
Hearts From Above
was going to be the title of the album and we started hashing out some ideas. I had the idea of using the old style plane, but I didn't want it to be to postcard-y, or too much like a Valentine's Day card
(laughing)
. She went with that, made it a little bit sweeter and it turned out perfect. She sent over that nice plane on back and the parachutes with the tiny hearts on the front and I just loved it!
You guys are in the midst of a tour with Reckless Kelly and The Departed. Being on the road with your brothers and friends must be more fun than work.
It's the greatest! It is just so much fun being out on the roads with the boys. I am already feeling like it's not going to be a long enough tour. It's just a blast.
Being that the tour is titled the Livers of Steel Tour, I have to ask….which Braun has the strongest liver?
I'm gonna go with Cody on that one
(laughing)
, but we'll just see.
For tour dates and lots more information visit Micky and The Motorcars
official website
Find MMC on
Facebook
Follow them on
Twitter
Purchase
Hearts From Above
(or any of their music) on their website or at
digital retailers