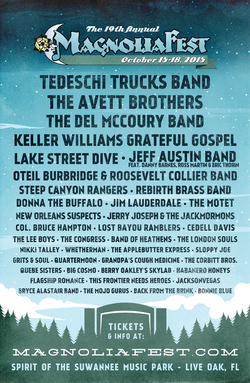 Held at the beautiful Spirit of The Suwannee Music Park in Live Oak, Florida, Magnolia Fest will be celebrating it's 19th year this October 15-18th. Magnolia Fest consistently features some of the world's finest performers in Americana, Roots Rock, Acoustic Blues, Singer/Songwriter, Bluegrass & Newgrass, Cajun/Zydeco, New & Traditional Folk and American Roots music. As part of a series leading up to the festival, I will be speaking with some of the artists who will be performing this October. To start things off, Grant Nielsen, of the Jacksonville based JacksonVegas, graciously spoke about the festival, his involvement in the community, music and more.

This is the 19th year for Magnolia Fest. What makes the festival special and keeps you coming back?

I think this will be our fourth year playing the festival. We feel so lucky to even be invited. Beyond it being one of the prettiest concert venues I've ever been to anywhere in the world, it's almost like clockwork how the season changes the Thursday of Mag Fest. It doesn't matter what's going on in the climate, the temperature drops ten degrees and everyone is just so excited to get out. It's a really magical moment. My wife and I have taken our child for the last few years; it's just a great time to be outside, listen to music and have fun with family. We love it.

Is the festival very family oriented?

Very. It's not a kid forward kind of thing, but they have a kids' area where parents will know their kids are safe and everyone is very nice. There is rock n' roll, but it's not a raging party; it tends to be more of a "well, I'm going to listen to Bela Fleck play quietly for an hour kind" of thing. At nighttime the kids lessen and the adults can let their hair down a bit. The artists are incredible and everyone has a good time.

When people think of a music city, they think Austin, Nashville and Asheville, but Florida and Jacksonville seem to have an emerging vibrant scene as well.

Ten years ago I don't know if I would have said that, but over the last few years, in the Jacksonville area specifically, there have been big shifts. We were down to one club in the city and Judy Van Zant came forward and invested in the regional music scene, created more venue spaces and purchased some of the festivals. Over the last few years we've seen many venues, with additional owners, popping up in the region-evidence of our thriving local music scene.

Unlike some of the struggling larger festivals, where you might try and see 75 acts in one weekend, for the smaller festivals [like Mag Fest] it's all about taking our time and choosing say, the best forty acts we can find, and being successful with that. Mag Fest exists in this perfect middle ground where we're not too big or not too small. We draw from 4000-6000 people every year which is just right.

What drew you to and keeps you in Jacksonville?

In 2008 my wife and I made the conscious decision [to settle there]. I'd toured all over the country and world, and we were ready for something else. We looked at Jacksonville and said we don't live in a great place today, but if we get organized, get involved in the community and help people, in ten years this might be a really great place, so we decided to double down on Jacksonville. Community activism was why we stayed; it was a bit of a gamble, but it looks like it's paying off.