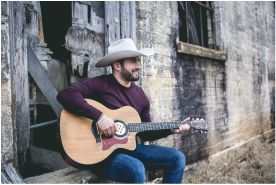 Texas native and Nashville resident Nestor AnDress released his most recent album, Falling in Love back in February. Having been out on the road this summer, AnDress is gearing up to return to the studio to work on a deluxe version of the album to be released sometime later this year. Ahead of his shows in Florida, AnDress kindly took the time to talk about his current single "Drunk In A Bar," its accompanying video, what's ahead and more.

You were on the road to becoming a lawyer when you chose to follow your dream of making music. Was there any one thing that spurred the career change?
I had always been a poet and a writer, so when I found out I could play a melody on the guitar alright, I put them together - and I fell in love. For me being, being able to have an influence and impact on people through music is an incredibly cool thing.
​
And was your family supportive of the change?
Absolutely not! At first, nobody really understood what I was doing because no one in the family plays and sings. One time though, I brought my mom on stage at a rodeo to sing her a song I wrote for her called "Mama." When she heard a bunch of strangers singing back the words I wrote for her she said, "Nestor, you're born for this." That was all I needed to hear.