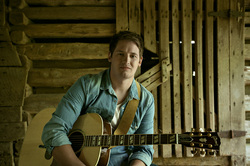 Hailing from Oregon,
Ben Rue
now calls Nashville home. The singer songwriter was introduced to country audiences earlier this year with his debut single "I Can't Wait" (Be My Wife). The single received accolades from Billboard, All Access and, importantly, listeners. Ben graciously took some time to talk about the single, his favorite moment thus far and more.
You were singing at a young age while working on your family's grass seed farm. Did you know from childhood that you wanted to pursue music as your profession?
I knew that I wanted to perform in front of big crowds, whether it was on a stage [with a music career] or pitching for a baseball team. I wanted to be at that level professionally where I was in front of thousands of people.
Did you grow up listening to country music?
All I listened to growing up was country music, especially Garth Brooks, Alan Jackson and Diamond Rio.
Are those artists ones that you would want to model your career after?
Definitely. Garth is a memorable performer, has a great work ethic and knows what people want to hear. Diamond Rio has some of the best melodies that I have ever heard ever and Chris Cagle and Alan Jackson write so simply, but say things in a way that no one has ever heard before.
When did you start playing guitar and writing?
I started in college. Our mom played multiple instruments and always encouraged us to get involved with music. My older brother started playing before I did, and I always like to say that I can do whatever he does, so I picked up the guitar and started teaching myself from You Tube videos.
Once I picked up the guitar, I started writing. Playing the guitar really encouraged the writing process for me because I am not very good with talking about my feelings and emotions. For me, it is easier to put them into songs.
What finally spurred the move from Oregon to Nashville?
I would say that the final push was when I took part in the first season of the X Factor. I made it through a couple rounds and Simon had some really nice things to say about me which gave me the encouragement and the confidence to take the next step. I drove cross country in thirty eight hours and arrived in Nashville on February 19, 2012.
Growing up on a farm requires a strong work ethic. Does that transfer to your music career?
Absolutely. We woke up early and worked fairly late. My brothers and I were good at always keeping each other in line. The competitiveness of sports also prepared me for a music career. [Ben attended Concordia University on a baseball scholarship and played for an independent team] Both instilled in me the work ethic that I have today.
You have said that you have a "passion for making lyrically meaningful music." Why is that important to you?
That is one of the elements of the 90's country music that I grew up on and I feel very strongly that it is important to be able to reach people with meaningful lyrics in my songs.
I was driving to Nashville and was five minutes outside of the city, still struggling with whether I was doing the right thing driving across the country on a leap of faith. As I was coming around the corner I saw the silhouette of Nashville and Garth Brooks' "The River" came on the radio. That song spoke to me at the perfect time in way that nothing else probably could. I want to create songs like that which connect with the listeners.
Your single "I Can't Wait" (Be My Wife) has those meaningful lyrics and has gotten such a positive reception. Talk about the single and what drew you to record it.
It's more than just a song that people who are engaged or newlyweds can relate to because it is a reminder of how simple love should be. Anyone who has been married for many years sometimes needs to remember why they fell in love.
I was drawn to the song for the message, but also because it is also so different from what is on the radio right now. It might be kind of unheard of that someone new comes out of the gate with a mid-tempo ballad, but it was something I really wasn't afraid of. I connected with the song and was happy that the song was brought to me.
How do you follow up a song that has been called the wedding song of the summer?
A little pressure right?! (laughing) I will just keep doing what I know how to do and create great music. I am excited to continue writing and creating songs with lyrics that express what is difficult for people to say, because I struggle with that too.
A lot has happened this year for you professionally. Is there one specific moment that was a highlight?
Recently, I played in Rochester NY. There were 3500 people there and I am pretty sure every single one of them was singing "I Can't Wait" back to me. The response from that crowd was incredible and if you watch the video of it on You Tube, I think you can tell I was genuinely excited. To know that my song has that effect on people is overwhelming.
What's next for you?
I will be writing every day. I am playing with Scotty McCreery in New Jersey and Eric Paslay in IA. I will also headline some shows and visit radio stations. I want to be out there reaching people across the nation one city at a time. This is all new to me, so I am really excited to go state to state and play for people. I am ready for anything.
Finally, I always like to know, is one recently released album that you cannot stop listening to?
Brett Eldredge has a really cool, fresh sound. I love everything he has released. I think people connect with what he puts out because he is really genuine.
For more information visit Ben's
official website
Follow him on
Twitter
Find him on
Facebook
Watch the video for "I Can't Wait" (Be My Wife)
here