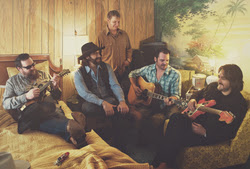 Celebrating twenty years as a band, Reckless Kelly - Cody and Willy Braun, David Abeyta, Jay Nazz and Joe Miller - released their ninth studio album,
Sunset Motel,
on September 23rd. Released on their own label, No Big Deal, and distributed by Thirty Tigers, the album is flush with roots rockers and ballads that showcase the musicianship and songcraft that have made the quintet staples in the Texas scene and beyond for the past two decades. Cody, Jay, and Willy graciously took some time during AmericanaFest to sit down and talk in-depth about the album, breaking through the noise and more.
So let's start off with the album's title, why did you choose to call the record Sunset Motel?
Willy Braun (WB): I pretty much knew "Sunset Motel" the song was going to make the record and to me, that title sounded like a classic record - in the way that a lot of great bands had their own motel or hotel album. I think it's a strong song that lent itself to some pretty good artwork and then the whole thing kind of fell into place.
In the age when digital is king, Reckless Kelly still takes great pride in making complete albums that are accompanied by exceptionally done packaging. For Sunset Motel, they once again worked with the Grammy Award winning Dodds sisters of Backstage Design Studio. The packaging comes with a map insert and a room key that, as you hover over the map/drawings, reveals many unique surprises.
Speaking of the artwork, it's so creatively done with lots of avenues to explore, like your previous album, Long Night Moon. Once again you collaborated with the Dodds, how much input did you have or did you let them run with it?
WB: The girls [Shauna and Sara Dodds] did most of it, but Cody and I drew some of the doodles and sketches on the backside of the map, which is a good size with the cd, but is even fuller size if you get the vinyl. [There are a limited number - 1000 - of the vinyl available.]
Cody Braun (CB): Willy came up with the idea to use the red and blue colors from the old Cracker Jack boxes, where you would get that thing so you could see the messages, and then the Dodds took it and ran with it. There are some really neat things with the album; for example, if you take the key and look at the road map from afar it's a snake coiled up…and if you put the key over Mt. Rushmore, the faces change…to ours
(laughing).
And like Willy said, the vinyl is incredible. It comes with postcards and stationary from the hotel, and if you place the stationary on certain spots on the map it ties in with different lyrics and all this other stuff. It's beyond cool.