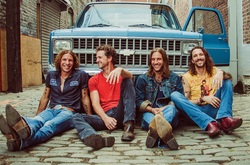 Already successful songwriters penning hits for others, Blackjack Billy (Rob Blackledge, Noll Billings, Jeff Coplan and Brad Cummings) independently released their song "Booze Cruise" in 2013 and set sail on a whirlwind year that found the single selling 300,000 downloads internationally and achieving Gold status in Canada. This November the band will be part of the
Bands on The Run Tour
with Doc Walker and The Road Hammers. Additionally they will release a full length record,
Rebel Child,
in the states December 2nd. Rob graciously took some time to talk about the record, the tour and more.
Fans embraced Blackjack Billy last year when you released "Booze Cruise" and the "Get Some" EP. Just the other day it was announced on Twitter that you would be making fans very happy by releasing a new record on December 2nd.
Yes! Jeff, our guitar player, producer and lead motivator in all things productive, said 'alright we just released the album in Australia and Canada, how about a December 2nd release in the US.' We figured we would just release it in time for cyber Monday because we're 100% marketing focused
(laughing).
No, really, for us when it comes to putting out a record, the timing of it has to do with what's ready and what's good enough to be released. So pending any unforeseen changes, we're going to have ten brand new unreleased songs out on December 2nd. We'll be doubling our musical content that day, so everybody can just eat it up!
Why did you release the record in Australia and Canada first?
One of the reasons we released in those countries first was because we have record deals in those two markets. In Australia we have a deal with Universal Australia and in Canada we are with Open Road. They basically told us to give them the songs when they were done, which we did, and the cd was released. It makes things very efficient when you have a good label behind you.
As an independent band in the US, we are doing everything. It takes a lot of leg work and prep ,which is why we are releasing it in December to iTunes. With a December release, we don't have to worry about a hard press, which gives us more time to do the artwork.
The US EP will be totally different from what was put out in Canada and Australia. Those cds have a variation of the
Get Some
EP and some new songs, but for the US release, we made the decision to put out a completely new record and we're really excited about it.
Blackjack Billy is known for party songs, but you are also serious songwriters. Will there be some diversity on the new record?
We are, thank you for noticing that. That's the really funny thing, "Booze Cruise" was really kind of a joke for us. As songwriters we just wanted to do something fun and stupid and figured that no one would pay attention or care…..oops!
(laughing)
But we've got far more songs that are not in the vein of "Booze Cruise." "Sneaky Jesus," which has become quite the fan favorite, is an acoustic driven song, in the vein of Wagon Wheel, and has an incredible vocal performance by me!
(laughing)
We also have a song called "Riley Creek" that is a straight up tearjerker with a soaring bridge and guitar solo.
One song that has been getting a bit of attention is "One Can Be a Lot." I heard it at a writer's round and loved it. I called Jeff to tell him about the song and all the guys agreed to do it. It is not a bar song or a festival song; it's played more in a theater for a listening audience. It's the quietest moment of the set with just an acoustic and electric guitar. It's the most standout song from a production standpoint and one that I think people are going to be talking about. We hope it's a song people say 'wow, they can do that type of song too' and not 'oh, I'm going to go get a beer now.'
The album is called "Rebel Child," what's the significance of the title?
I have no idea!
(laughing)
No, we really don't spend a whole lot of time obsessing over album titles. Jeff said that we needed a title and someone referred to a song we used to play quite a bit, but has since eased out of rotation, "Buckwild Rebel Child." We all looked at each other and said that makes sense. You know, we're a young band who doesn't try to fit in with everybody else, so that's thinking behind it. But honestly, we kind of stumbled upon the title.
In November you will be joining the Bands on The Run Tour which will stretch across Canada. Will this be the first time you have toured there?
This is our first real big tour and we couldn't be more excited! The format in the states is more weekend oriented, where you go out and play Thursday to Sunday, but for this tour we'll be out for thirty days starting on the East coast and ending in Vancouver. It is going to be a good time to grow as a band, get a lot of writing done and of course, the most important thing, play a lot of great shows and spread the Blackjack Billy love across the great white north.
And of course we cannot forget NYC! We will be stopping in New York City on our way up there to play the
Mercury Lounge November 18th.
We've had incredible support for our shows in North Jersey, but this will be our first time to play the city proper. It's going to be a Tuesday night, but in years of playing, NYC never disappoints. We're all looking forward to it.
Finally, I always love to know, is there any recent release that you cannot stop listening to?
I'm very specific about what I listen to, I don't jump around too much. I like First Aid Kit; Noll and I stumbled upon their music and I am loving their record. I just envy the way they write and their melodies and blending. The next one is a little predictable being a songwriter, but I just got into Tom Petty's Mojo record. I don't know how old it is, but it's a really cool blues record and being from Mississippi, I really enjoyed that. One final record I can't get enough of is Moon Taxi's latest Mountains Beaches Cities, top to bottom.
If I can't find something to listen to, well, we'll just dive into the well and write it.
For more information visit their
official website
Find them on
Facebook
Follow them on
Twitter