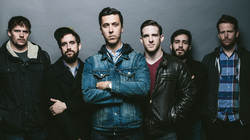 North Carolina's American Aquarium are having a very good year. Their latest album, Wolves, was released in February and has found the band - BJ Barham (Vocals/Rhythm Guitar), Ryan Johnson (Lead Guitar), Whit Wright (Pedal Steel), Bill Corbin (Bass), Kevin McClain (Drums), and Colin Dimeo (Lead Guitar) - with an ever growing popularity among critics and the masses alike. After a tour of Texas and ahead of their show in NYC at the Gramercy Theatre, front man Barham took the time to speak about success, sobriety and more.

Congrats on an incredible year and the release of Wolves, which had an incredible reception. Have your expectations been met?

Oh yeah. The goal with any record is to put it out and have it do better than the previous and for us this record kind of surpassed anything we ever thought would happen. Burn.Flicker.Die took it to certain level on the musical food chain and Wolves skipped us up a couple more notches on the ladder.

It was a very pleasant surprise that folks dug the record. It's the first record we can say was critically acclaimed because everybody had very nice things to say about it. When publications that my mother has heard of like Rolling Stone and the Wall Street Journal are saying great things about your record and that I did good…. I think that's when she started believing that I was doing okay. It passed my mom's test and I think it's definitely our best record to date.

It will definitely be on many "Best Of" lists at year's end.
Going back a bit, what was it do you think it was about Burn.Flicker.Die that resonated with people?

Everybody has been at that point where they question whether they are good enough. No matter what your job is, no matter what occupation you chose, there always comes this moment 'Yeah that's what I'm supposed to do, but am I cut out for it?' Being a musician is the same exact way. We hit a wall where we weren't seeing any growth or seeing more people at our shows. We were literally playing for twenty people every night and after seven and a half years of that we started asking questions and wondering if maybe this isn't what we're supposed to do. We thought we were pretty good, but obviously nobody else did. Luckily, Burn.Flicker.Die changed everything for us.