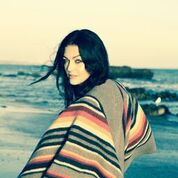 -Tara

Born in Upstate NY singer-songwriter Angie Bruyere settled in Southern California at a young age and began a modeling career that took her on a journey around the world. With pen and paper always in hand, she began writing poetry and playing her guitar, drawing inspiration from such bands as Fleetwood Mac, Tom Petty and The Rolling Stones, Gram Parsons and Willie Nelson. Her unique sound and smoky, mesmerizing vocals contain both an honesty and an edge - both of which appear front and center on her new EP, You, which was released on October 7th. Via email Bruyere kindly took some time to answer a few questions about the EP, the video for "You" and more.

Having released the Blood Like Wine EP earlier in the year, were the songs on this new EP written since then, or were they songs you had in your pocket? Or a mix of both?
We actually recorded both EPs at the same time while in Nashville at The Castle Studios. There are several songs on both EPs that are from our first ever record called Riding The Belly that was never properly released and that we decided to re-record to give everyone a chance to hear, as well as some brand new ones. It was so fun to be able to give them a sort of new life......no song left behind kind of thing.

Do you draw from personal experience, others' experiences, stories, or any combination of the three in your songwriting?
I generally tend to draw off of my own personal experiences in my songwriting more often than not. I really need to believe the words that I'm singing and to really feel them, it helps to have really lived them. I really do love writing for television and movies, however....I enjoy getting a storyline and vibe and writing a soundtrack to the scene. It's a great challenge and so gratifying when it really works.