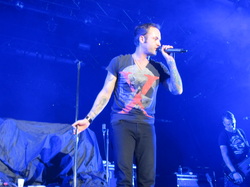 Dallas Smith might be new to U.S. country fans, but he is certainly no newcomer to the music industry. He released four albums and toured extensively for years as a member of the internationally successful Canadian rock band Default. A few years ago he decided to make the change from rock to country and released the extremely successful Canadian record
Jumped Right In
. Dallas recently signed with Republic Nashville & is currently on tour in the U.S. with Florida Georgia Line on their
Here's to the Good Times Tour
.
The tour recently made a stop in NYC for three sold out nights at the Best Buy Theater. Truly an artist who loves what he does, but one who makes family a priority, Dallas was gracious enough to set aside some time in his schedule to meet & chat.
You have been in the industry for over ten years. How did you decide to go from successful rock artist to country music artist?

Well, Default, the rock band I was in in Canada, got our first record deal in 2000 and the record came out in 2001, so it has been awhile that I have been in the business. Growing up in my household, my Dad was a classic rock fan and my mom listened to a lot of country, like Reba and the Judds. So I had a bit of both influences growing up. Obviously, as a teenager living in Vancouver I was into the Seattle rock scene a lot. We formed the band when I was about 21 and we toured all over. But as times went on and we were touring all over the place I felt my mom's influence coming on a bit more. Honestly, it was when Keith Urban and Rascal Flatts came out that I started to pay attention to what was going on in country. I liked the changing sound and that the songs were a little more guitar driven. It really was a perfect blend of what I grew up with & it grabbed my attention. I would warm up to shows listening and singing along to Rascal Flatts or Keith Urban.
So the change really worked out well because Jumped Right In, which was released in 2012, had five singles and was nominated for 4 CCMAs. Did your fans from Default follow you over?


Thank you, yes it did. The record gave us one top-five and four top-ten songs. We had some pretty die hard fans who came over, a bit reluctantly, but they came over. When they heard the record they thought country really isn't all that bad. People tend to think it is all twangy when there's a lot of other stuff going on in country as well. Country can have a bit of a rock edge to it as well and that's what I try to have.
You have worked with Joey Moi, who also produces Florida Georgia Line, for a longtime. Can you tell us how working with him came about?

Joey was the one who took a demo tape from the garage we [Default] wrote our stuff in over to Chad [Kroeger, the lead singer of Nickelback]. He has been an integral part of my career from the beginning. For at least seven years we wanted to get a country record going but it never worked out to be the right time. Then Default started slowing down and I started talking to my manager saying let's do a country record. The breaking point actually was when we were on this arena tour opening for a big band. It was the kind of the spot where anyone would want to be, but I didn't like where I was & where I was headed with the band. It wasn't what I wanted to do. So literally, I was in the back of the bus and I texted Joey 'country record?'. He messaged back 'are you ready' and within two weeks we were in Nashville getting started. It took a long time doing it as we started it four years ago, but the right time had finally come along.
Why then is the time right now to for a US debut?

To be honest, the label wanted to release it in the US right away after we saw the success in Canada but we had just gotten married and I wasn't sure how much of my time I wanted to devote to doing that. I have a son who was young at the time and for who it is important to be there for. I have been though all of this before and when you do it, your personal life is just, gone. It is really tough on the family. I needed time to digest it and decide how far I wanted to take it. We have a strong marriage and my son is a bit older now (he is 8) so it made sense that now I could make the step. I think back 10years and how we could keep in touch, there really was nothing. Now we have many ways to stay connected. So about six to seven months ago I gave Joey the go ahead. I was ready and we were ready as a family. I am very, very lucky guy to be able to do things on my own terms.
Your current single is Tippin' Point which was written by FGL and Jaren Johnston. It is such a fun song with high energy, but also a song that is a lot different than the songs on Jumped Right In . How did that song come to you and what drew you it?


It is a lot different than the record. Honestly, it kind of just fell in my lap. I think maybe the FGL guys were going to put it on their record, but decided not to. Joey brought it to me and prefixed it by saying ' now keep an open mind man.' When I went into the studio and heard Jaren's vocals on the demo, they were completely different. It scared me a little bit, but I trust Joey and his instincts. He is a very, very good soundboard. Once I recorded the track and put my vocals on it, I was sold on the song, I could feel the energy, I felt I could really put my own stamp on the song
The song is currently being played on the Highway as a Highway Find. They have been known to break new artists. What does their support mean to you?

I met John Marks a couple times. He is a fantastic guy and a great supporter of Joey and what they are doing. When you have a guy get behind you at this early in your career, it's huge. From previous experience, I know how this business is, I have been through it before and know how lucky I am to have the support that I have.
You are no stranger to touring, having toured most recently with Bob Seger and Jason Aldean on some Canadian dates. Now you are on tour with FGL. Can you tell me how that came about, how it has been going and how is crowd reaction?


The FGL guys heard about me the last couple of years through Joey because we were working on records at basically the same time. They heard my voice & really liked it, but I think 'Tippin Point' was the selling point. I have to give props to those guys, the success they are having and what they are doing. As for the tour, it really is the most fun I have had in a long time. It's really crazy and exciting. The country crowds are a lot younger with more excitement and energy than the rock crowds who tended to be older with a little less energy, to be honest. It's really fun because even though I have done this all before with singles, it's fun to build something again from the ground up. It's given me a new rush.
I know you co-wrote some songs on Jumped Right In. Are you writing for the new album as well?

We have about four songs right now for the EP, which I did not write. We had put into our laps these amazing songs and I thought there was just no way I was passing them up. By the time we record them, I have definitely put my stamp on them. I do enjoy writing, but for me, I love getting on stage and singing good songs. If that means singing outside songs, then that's what it takes. I'm going for quality when I am looking for songs to choose to sing. Best song wins.
When will the EP be released?

We hope to have it out either by the end of the year or early next year. But everyone is so busy we have to find time to schedule, figure out when we can get into the studio and try to find maybe a couple more songs. It will be high energy all the way through and be a little more left of center, have more of a rock edge to it.
Is there a difference between writing a rock song and writing a country song?

Absolutely. Country songs are way more lyric driven, lots of story telling involved. With rock songs, the lyrics are important, but it was more about what we felt in our gut, the guitar riffs and how it was sonically. With country it is all about the lyrics, that's the biggest difference.
Is there one record, any genre, you have on repeat?

Well, I don't really listen to rock anymore and don't have a lot of time to listen in general, but Keith Urban's
Fuse
is the one I listen to the most.
You are on tour until December including two sold out LA shows , your baby girl arrives in January as well as the EP in the new year. Those are some big life events. What are your plans for 2014?
We will tour until December 15th then after the baby comes we will go on lockdown for awhile. I am sure I will have a lot to do & feel the pull from the label and management. But if I do something it will have to make sense. We are based in Vancouver so Nashville is not really all that accessible. I would like to say we can go back and forth, but I owe it to my family to spend time with them because this time is so important, you cannot get it back.
While you are waiting for that EP, his 2012 release,
Jumped Right In
, however, is available via retailers and his official store. This is one of those rare records that can be played from start to finish. You may listen to one song 20 times in a row, but there is not one song you will pass over. I encourage you to definitely pick it up.
You can listen to his current single 'Tippin Point' and 'Nothing But Summer' from
Jumped Right In
below.
For more information visit
www.dallassmithmusic.com
and on Twitter at @dallassmith