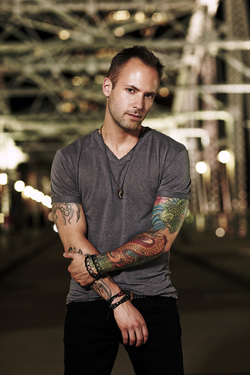 Canadian Dallas Smith was introduced to US audiences last year with the release of his single "Tippin' Point."
The former front man for Default continues to merge country and rock on his latest release,
Lifted
, a seven song EP which was released on November 24th. Dallas took the time to talk about the new record and his upcoming tour.
The past year saw the success of Tippin' Point in both Canada and the US. Were you happy with the reception to both the song and your live show?
Yes. The Highway really got behind that song and increased my exposure in the US. John Marks has been a huge part of my career. Luckily, he believes in me and the songs and is really pushing for me. Sirius XM even comes through to parts of Canada now, so it has taken my career in Canada, which is going really well, even further.
I think the reception to the live show was a good one. I definitely saw a lot of social media postings asking when I was coming back. Also, people on the Florida Georgia Line Cruise would come up to me to talk about the music and ask about touring. It's been a lot of fun. Slowly but surely we are going to keep plugging away.
Your new EP, Lifted, released November 24th. When you started planning for it did you have any specific ideas or themes in mind?
Yeah, I did. When I listen back to the
Jumped Right In
record, I think it could have been a little bit more dynamic in regards to the instruments we used and how we used them. I wanted to create a more dynamic record this time so it would give us more ammunition to create a live show where guys could hop on and off different instruments. There are a couple more ballads on the EP, like "Heat Rises" which sets a completely different mood. We are using piano, and pedal steel, which I have never used on a record before. It gives it a more organic feeling, it's really exciting.
You worked with Joey Moi on your previous releases and he produced Lifted as well.
Yeah, there really is nobody else for me, he's stuck with me
(laughing)
. We recorded the EP in both Nashville and Canada, travelling back and forth to piece it all together. I am very lucky to have some Nashville heavy hitters, like Charlie Judge and Adam Shoenfeld, play on this record.
Lifted, a song on the album, is also the title? Why did you choose that song for the title?
That song almost made the
Tippin' Point
EP, but we ran out of time. "Lifted" was the first one I picked for this record and I am so happy that we finally got to record it. The song reminds me why I love music so much. A
great song can take whatever mood you are in and take you out of that space; it's what I think of when I listen to that song and the message it has. It's really a stand out song in that way, which is why I chose to name the record after it.
Were you involved in writing for the record?
I did do a lot of writing, but none of my song made my record. I like writing, but it's not my first love. I love being in the vocal booth, singing these great songs, trying to represent them and bring them to life in the best way possible, especially during a live show. That's where I get my enjoyment from. There are so many incredibly talented songwriters, like Craig Wiseman and Sarah Buxton, that when they say 'hey would you like to sing a song I wrote?' you just don't say no.
Your fans on social media seem to be particularly partial to "Cheap Seats."
Oh, they are?! That's the perfect summer song; I love the energy in it! That song was written by Sarah Buxton, Jesse Frasure and Tina Parol
. Sarah is such a great singer. It's very intimidating when you have someone of that caliber behind a song. I knew that when I heard the demo, which she sang on, that her shoes would be hard to fill. I tried to represent the song well and am really glad she liked what we did with it.
Your Canadian headlining tour starts in January. You will be heading out with Charlie Worsham and Sundy Best. How did you connect with those artists?
I am a big fan of Sundy Best and I think they will be a great fit for the tour! I met Charlie in Nashville recently. He's a super nice guy and his music is a great fit as well. It's terrific they are coming out and are willing to tour Canada in the middle of winter!
(laughing)
I am really excited to get to know these guys better.
After that tour we will be doing fairs and festivals in the US. If a tour comes up, that would be great, but I like building things from the grass roots and with fairs and festivals there is a broader range of audience to expose the music to. It works out really well that way.
Purchase
Lifted
here
For more information visit his
official website
Follow Dallas on
Twitter
Find him on
Facebook