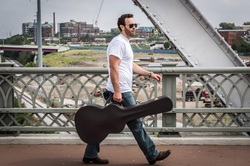 With much support from those closest to him, Jon Conover developed an early enthusiasm for the art of song writing and performing. Playing everywhere from Ireland to California, Jon returned to Nashville to record his latest project,
Keep Believing (Nashville Sessions) EP
, which was released this past November. Jon kindly took the time to talk with us about his journey, the EP and what's ahead.
You formed your first band in high school, so did you know early on that music was something you wanted to pursue professionally?
I took chorus in middle school, which as we know, is basically a way to get out of other classes and have a break during the day. There was a young girl there who heard me singing under my breath and told me 'hey you have a really nice voice, you should sing out.' And you know, I'll never forget that because I didn't think I could sing. That was the first time I gave it a second thought. Then I started taking the words I'd written and turning them into songs and becoming more interested in the guitar.
I was in my first band in high school. Some friends convinced me to sing in the band for a talent show. However, when the time for the show came around, they had to come and drag me out of my basement to go do it because I didn't want to show up! I didn't realize that I had such bad stage fright, but like anything, when it came down to the moment I figured out the truth of the matter. The minute I got on stage and we started the song, the stage fright went away. The show went really well and we were off to the races!
I went off to college and had people telling me what I should be doing, what would be a good career. So I went from computer programmer to attorney and ultimately ended up in restaurant management. Throughout all of that, music was the one thing I never quit on. It was the constant in my life. I was always in a band so I thought 'why am I not doing this full time?'
So you decided to follow your passion?
You know, the word passion originates from the Latin word for sorrow or suffer and what people don't realize is that your passion will become something that will take a lot of effort. Anything in life that you want to be successful at will take a lot of effort, so really, why not do something that you love.
Did you start writing at a young age as well?
I started writing when I was eleven years old. However, I didn't take anything too seriously. I worked hard for things, but when things came easily I did not apply much effort to try and master them. I would get good enough and move onto the next thing. Once I was out of college, I realized that I wanted to really master things and do things to the best of my own personal ability. It really wasn't until the last six or seven years that I really have dug in and committed myself to practicing the guitar for hours every day and finding out what it takes to bring it to the next level.
Your musical sound seems to be ever evolving. Who would you site as your influences?
David Gray, Ray LaMontagne, Amos Lee, Paul Simon; going back there is Jim Croce and Bob Dylan. I have always been drawn to songwriters. I like and respect bands, but I just never found myself at the store buying their albums. I always found myself in the songwriter's section. I'm inspired first by what people say and then dive into the melody behind what they're saying. I like to make that distinction of where that comes from. With young songwriters you can tell people were inspired to write things, but they haven't necessarily lived them. As one gets older songs become your life and come from a different place--and that's what inspires me about songwriters.
How did your travels and time in Nashville, Ireland and California influence you?
Those were experiences that, I don't even know how that stuff happened. I look back and it all went so quickly, but still feels like I have lived a couple lifetimes. Those travels taught me that the little space in front of us and around us has very little bearing on the rest of the world. Our way is not the only way. Everyone of us has to go places and meet people to get stretched out, to grow, and to form a sense of empathy and compassion for what other people go through. The only way to do that is to make yourself vulnerable. I read somewhere that if you want to get inspired then you should go do something that makes you feel vulnerable and/or insecure. Travelling has done that for me. If you go on vacation, you more or less take the time for granted to purely enjoy it, but if you live somewhere then you are really at the mercy of the people around you and your surroundings. You can't take them for granted because they have to be utilized. Living in Ireland, I wasn't in my own culture and that taught me to appreciate silence and to be more of a sponge; that has become a part of what I do in life and my craft.
Your third record Keep Believing (Nashville Sessions) was recently released. Talk about making the record.
The first time I went to Nashville, when I was still in school, I learned a lot of lessons. This time was a totally different story. There are a lot of people there now who are ready to collaborate, there is a great vibe and I really fell back in love with the town. After what I felt like was one of the worst shows of my life, I changed my perspective to focus on what I was working towards and keep believing. It's easy to become selfish as a musician, but if you're causing pain to those around you and if it's not coming from a place where it is about everyone and 'I have to be doing this,' then it's gonna cave in on you. I had that enlightening moment and a month later I was in a nice recording studio working on this EP. It was my first experience co-producing and it went really well. Every time we hit a wall I didn't let the negativity break me or affect the camaraderie of the people in the room. Everyone was focused on getting it done and we felt that if the listener heard that we loved what we were doing, they would love it too. The whole thing was an amazing, blessed, magical experience. That's the only way I can describe it.
On this EP you are exploring a country and bluegrass side to your music. What led to that?
That happened on accident. I always wanted to work with Ben Probus [The Band Perry, Mark Chestnut] so when he had some time off of the road, he agreed to come into the studio with us. He came in and asked me what I wanted to do with the song and I told him to play his take on them and we'll go from there. He came in on Keep Believing and suggested we go a certain way which changed the tone of lyrics and made the songs a little more lighthearted. A lot of my songs can be either fall or winter and it was nice to have some springtime this time. So we went in that direction and I learned so much. It was cool to dip my toe in the water.
You recently released a video for the song "Keep Believing." What is the story behind that song?
All songwriters have their low stories. My Dad had to have three heart surgeries in two years and there was all kinds of stuff falling apart. To have a moment of encouragement and hope was a life changer for me. It's easy to say keep believing to someone, but I didn't want it to be a corny song; I wanted it to really mean something different and I think that comes across.
Now that the year is coming to a close, what are your plans for 2015?
I would like to record a few more three song EPs. I want to do them in areas of the country that I have spent time in: LA, NY, and Chicago. This idea has got me full of energy because I can feel it and see it happening. It will be along the same vein of what we did in Nashville which is kind of Americana.
Is Americana the genre you see your music finding a home?
It's easy to say I am a singer songwriter, but I think Americana is where I fit in. I love elements of country and gospel and southern rock. I think if you put all of those together you come up with Americana, but it also has to do with the layering of sounds and instruments. I like the fiddle and lap steel and would even like to have accordion on the next EP.
Finally, I always like to know,
i
s there one recent record that you cannot stop listening to?The New Basement Tapes
that T Bone Burnett recently put out. He took some really cool artists, like the lead singer of Dawes and Marcus Mumford, whose voice quality I am a big fan of, and just made a cd with a lot of cool stuff going on.
Purchase
Keep Believing
here
For more information visit his
official website
Find him on
Facebook
Follow him on
Twitter