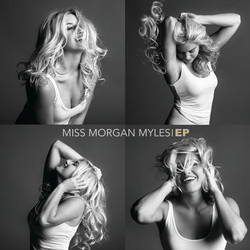 Originally from Pennsylvania, but now calling Nashville home, Morgan Myles is preparing for a big year. A true triple threat, Myles sings, plays guitar and co-wrote all of the songs on her new EP, Miss Morgan Myles due January 8th. The EP, which has already caught the attention of Music Row Magazine, blends country, blues and soul into something refreshing and undeniably unique. In anticipation of its release, Myles graciously took the time to chat about new music, the stories behind the songs and her personal journey of growth over the past few years.

You graduated with a degree in music business. Did you initialy see yourself in another part of the industry or was performing something you always wanted to do?

I went to Berklee College and was a performance major my freshman year. I had an opportunity in Nashville, so I transferred to Belmont and chose to get a degree in music business because I felt it was important for me, as an artist, to understand what I needed to do in order to be successful.

When did you start to hone in on the country soul sound as you had previously released an alternative-rock project with the legendary Vance Powell.

It definitely took time to find my sound. I grew up in Pennsylvania and was this little girl with this really big voice. It didn't matter the genre, I would sing anything from Mariah and Celine to Faith Hill, Trisha and Reba. When I started taking guitar lessons around age thirteen, my guitar teacher, Dave Brumball, heard all of the soul in my voice. He had me learn guitar with the blues, which is obviously the easiest place to start learning from (laughing). He was like 'Here's Janis, here's Bonnie Raitt' and all of a sudden I was like 'Whoa.' That's when I really got into all of that and found a respect for history and music other than what was being played on the radio.

For me though, it goes further than music; it's about what you want to say as a person. Put music aside and we're all just human beings trying to figure out what really drives us. As a writer, performer and musician you have to tell a story in three minutes so you have to think about what you want to convey and to be able to say it authentically. It takes a awhile to get to that place, but it takes awhile to mature as a human being. We're all still growing and knowing how to confidently express feelings and tell a story takes time.

The new EP, Miss Morgan Myles, which is due January 8th, definitely has some stories to tell. Did you write from personal experience, the experience of others or something else?

Oh definitely personal experience. I am a wear your heart on your sleeve type person and for me, it's very important that when I'm singing a song - especially live when you're going to perform it 100+ times - I have a really good reason why I want to sing it. I have to go back in my mind and think about what I was feeling when I wrote it and convey that emotion with conviction. One of the songs, "Whiskey Dreaming," I wrote right after I had my second knee surgery on my ACL. A guy I was seeing didn't call me or check up on me until three days after, at like 3am, and I was like 'No.' "Queen of Hearts" is a sad love song also about my disappointment in his reaction. In my mind, you don't need money or things in a relationship, but if you don't have the instinct to take care of someone when they are in need, something which is completely free, that's when you know; if they can't come through in hard times, then it just won't work.