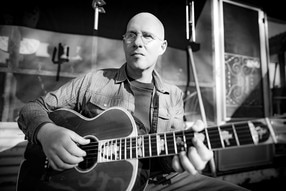 Multi-instrumentalist, frontman, sideman, and producer are a few of the hats worn by Oklahoma native Jared Tyler. The singer-songwriter returns on June 2nd with his first full-length in seven years,
Dirt On Your Hands,
a collection of self-penned and co-written tunes - as well as a few covers - that convey poignant, personal stories delivered via American Roots melodies and relayed by Tyler's understated, emotive vocals. In advance of the album's release Tyler took some time to speak about the project, his friend Malcolm Holcombe, and more.
While you may be new to many, you've had a long rich history in music from producing other artists to opening for Merle Haggard to performing or recording with Stoney LaRue and Emmylou Harris.
I started performing at fourteen or fifteen playing different events for friends around town. At sixteen years old, I started taking trips to Nashville with my mentor at the time, singer-songwriter Michael Garrett. The summer before my senior year of high school, we produced a record together there at the Bradley Barn that was a musical tribute to the FFA. That was a fun, wonderful experience that led to so many other things. I had lots of encouragement, amazing influences, and wonderful mentors that helped shape my artistry. I've been very blessed.
So far, you've released two of your own albums, the last being in 2010. What accounted for the long stretch between that one and Dirt On Your Hands?
During that time, I produced other artists at a studio in Tulsa, played on others' albums, and toured as a sideman. I also moved back to Nashville for a brief stint in 2011-2013 and focused on songwriting. It was a very busy time and that was certainly an aspect of the distance that came between the two releases for sure.
​
Was there anything you did differently with this record either as writer or producer?
I would say this one is a lot more personal – a shout out to my roots if you will. This is my story and one that I look at as a tribute to different parts of my life. I wrote or co-wrote nine of the tracks, which are pretty acoustic driven, and the three others are covers: two of
Malcolm Holcombe's
and one by my dear friend Dixie Michell who had recently passed when I recorded the record. She always wanted to hear me sing "Waltzing Around With My Shadow", a song she wrote in 1969, so I wanted to honor her by singing that on here.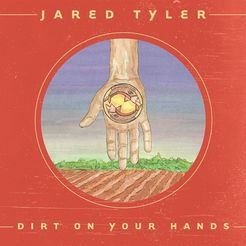 Malcolm Holcombe is someone you have had a working relationship and friendship with since 1999. You cover two songs of his on this album, why those two specifically?
In my opinion, Malcolm is one of best writers of our time and t
hey're both special songs to me that I thought also fit the album. The first time I heard "Dressed in White" it blew me away, so much so that I learned to play it. I've represented that song by playing it at every show, unless I'm with Malcolm, for eighteen years now and I knew I wanted to have it on the record with Malcolm and Jellyroll [Johnson] both on it.
"The Door" was a pretty random choice. I want people to get what they get from any song, but when I hear that one, I always picture someone paralyzed in a wheelchair who has his sister help him out - an image that is so powerful to me. Malcolm came in, sang, and played guitar on it with me and I was just so thrilled. We cut it live to tape, capturing a moment that was raw and a little rough around edges, which is a very special thing to do in the studio.
At end of day though, it's a toss-up of which song of Malcolm's to choose. I've got quite a few songs of his recorded and probably will still keep putting them on records. Malcolm's songs, imagery, and expression cut through everything else to take you right to the heart of his expression and that's what I'm hoping people feel from this record.
Dirt on Your Hands begins with "Death of Me" which, to me, has this almost Randy Newman feel; why kick things off with that one?
Musically the song is unique - the bass is a tuba and it has this old-timey vibe with harmonica and clarinet. The song's story is a tribute to some of the people, like my grandfather and grandmother, who had an impact on my life. It's also a tribute to my life partner, Jacob, as is the last song. I don't want to get sappy, but I like how those two songs I wrote for him start and end the record like capstones because he's been so supportive and just a huge part of my life.
The cover art is some of the loveliest I have seen lately. Can you talk about that a bit?
This friend of mine, Paddy Ryan, is the drummer for Parker Millsap and a kick ass painter. I wanted to work with him musically, but logistically we couldn't get it to work, so I asked him if he'd do the cover art and all of a sudden, the whole concept, which is the first watercolor of his the public will have seen, came together. The hand represents your hand, the dirt and the sunset represent Oklahoma, and the fish represents Pisces because I am a Pisces and a huge fisherman. A songwriter from Tulsa, Kalyn Barnoski, who is also a graphic designer and teacher, did the graphic and put it all together nicely. I can't wait to see on a vinyl….and a tee shirt of course.
You've shared the stage with so many artists, what are your plans with this release? Will you go out with someone or your own tour?
I'm in the process of mapping that out. I really want to get out there, meet, and say thank you to the radio people and those who have been so supportive of the songs. We'll play some dates hitting the Mid and South West, but I'm holding back because we're working on a European release and there's a good possibility I'll tour there for a while this Summer. I've been to Europe with Malcolm, whose fans are just some of the most honest and real people, and it was just wonderful. Not to knock or disrespect our crowds because we have passionate crowds too, but even in their youth Europeans have such a musical foundation; they want to know who influenced Malcolm and then how Malcolm's influence on others ranges from Steve Earle to Lucinda to Emmylou. I'm looking forward to going there again, but I'm also giddy like a kid in a candy store to go and find my people here in the states who want hear this kind of music. I feel very blessed to be releasing this album.
Sounds like a busy year!
I always like to end knowing if there is any recent release you cannot stop spinning and would recommend others check out?
Up until this record I would have said
A Hundred Lies
by Malcolm, but now that his new one is out I think my new favorite is
Pretty Little Troubles
by Malcolm – up and down it's one of his best works both lyrically and melodically.
For more information visit his
official website
Find him on
Facebook
and
Spotify
Purchase Tyler's music
HERE