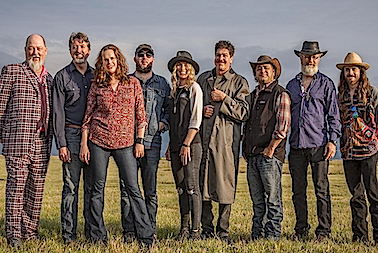 Shinyribs delivers a cure for what ails you on their exuberant fourth release, I Got Your Medicine. Tracked at the legendary Sugar Hill Recording Studios, the album unites humor, heart, and soul on a funktastic twelve track collection that will free you from your cares, touch your heart (and funny bone), move your body...and leave you with a huge grin on your face. Front man, lyricist, and multi-instrumentalist Kevin Russell graciously took the time to chat in depth about the album, which releases on February 24th, and much more.

I Got Your Medicine is such an appropriate title for the album. It really is musical medicine for the soul. Why did you choose I Got Your Medicine, which is also a track on the album, as the title of the project?
Using it as the album title was Jimbo's [Mathus, who co-produced the album] suggestion, he thought it was a great lead and title track and I agreed with him. "I Got Your Medicine" is my attempt at writing an Allan Toussaint song; it puts forth that New Orleans R & B groove, and really ties everything about the album together. Lyrically it works with all the other songs too, which is something I didn't hear at first, but once Jimbo said that to me, I thought about it and listened to it with that in mind. You know, I've arranged and produced myself before, but I found that with Jimbo, I had someone who helped me make objective decisions because I tend to let my imagination wander and overthink things too much at times.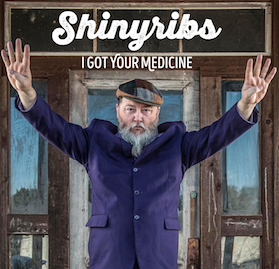 How did the two of you connect, have you known one another for a while?
Some years ago, a friend of mine, Norwood Preach, turned me onto one of Jimbo's records,
Confederate Buddha
. I listened and was floored by how great the record was. I told Norwood that I had to meet this guy, which is something that never happens to me - I have never hear a record and then felt that I needed to meet the guy who recorded it. So, I got his number, called him up and said, 'Jimbo Mathus I don't know if you know who I am, but I heard
Confederate Buddha
and I just called to tell you I want my record collection back.'
(laughing)
He laughed and a friendship began.
One time, he was going to open for us at a venue in Beaumont, but he was coming from Houston and underestimated the traffic on a Friday afternoon, so he missed the gig, but still showed up and played with us. That's the first time he heard me with the Tijuana Trainwreck Horns and the Shiny Soul Sisters and after he saw the show he said we had to make a record together, which I thought was a cool idea. At the time, I into Swamp Pop and was reading a book about Sugar Hill Studios where a lot of that type of music, and some of my other heroes, like George Jones, recorded. I got to thinking about George Jones and Pappy Daily, who guided Jones' career and produced his records at Sugar Hill, and I saw Jimbo as the same kind of character….and I told Jimbo he could be Pappy to my George Jones
(laughing).
I like to work with people who I like and who like me and what I do. I would never work with someone for brownie points, political or career reasons…. it's probably been bad for my career, but in the long run it's been good for my soul
(laughing)
. It's funny how it all unfolded, but the pieces just came together. The album gives off a great energy and I'm really happy with how it came out.
Feeding the soul is important as it seems is humor, which is something I love, but isn't found too much in music these days.
Absolutely. I don't know what happened but somewhere along the way, probably with my generation, it got lost. I was a really angry young man, but at some point I realized I'm not really angry - I like to laugh and love. I can be serious and I do have some serious songs but I enjoy doing the fun stuff. Even the Gourds put humor in some songs and I remember getting criticism because I think when people hear humor in music they think it's a novelty or they don't take it seriously because your hootin' and hollerin' or making jokes, but I like that thing, it's in my nature. The Coasters and Tony Joe White always had humor, even though people might not have always caught it; Tom Waits too. And Elvis was always making jokes during his shows and changing some of the lyrics in his songs and that's something I always liked about him. When I'm on stage I feel like I'm free to explore that thing I do. There are no rules and the thing to know about an audience is that they'll generally go with you wherever you go.
Your live shows are incredibly fun and joyful, and just put me in an incredibly happy mood.
The record is grounded in Swamp Pop as well as R&B and Soul. Are these types of music you've always had an affinity for?
I went through a lot of musical phases to get where I am now. I've always liked Soul and Funk and probably got into Swamp Pop twenty years ago. I had some older musician friends who played a lot of that type of music and were always trying to turn me onto old school bands like Little Feat or The Neville's - and I was always hesitant, but I came around. Recently those guys came to see us play and I said, 'Dudes, I finally understand. I got it!'
(laughing)
and they said 'You sure do man.' It was a great moment; I was so proud they were there.
One of the great joys in my life is music and exploring music…and I let it take me where it's going to take me. When you feel it, you feel it - and I can't imagine life without it.
As an avid music fan, I can totally relate.
Last year you co-produced a tribute album to Ted Hawkins, and you covered on of his songs "I Gave Up All I Had," on this record. He was important source of inspiration for you?
Ted was one of the great musical finds of my life and I came upon his music totally by accident. I was working in a bookstore where had some promo cds and, for some reason, his looked interesting. I took it home, listened, and was blown away. His voice reminded me of Otis Redding and Sam Cooke and his songs had a folky quality that were unusual and interesting to me.
For last year's tribute project, I learned all his songs so I could produce and communicate effectively with everyone, but also so I could get a feel for them. That song was one I did with the band, and man, it was so good and fit so perfect with the Swamp Pop style that I wanted to put it on the record. At first, I had reservations at about doing the song, wondering if it was weird to do the Ted Hawkins record then put a Hawkins song on my own album, but then I thought, I love Ted, so who cares
(laughing).
There I was overthinking things again when I should have been like, 'It's good, so let's do it.'
Did you ever get the chance to meet him or see him perform?
I didn't know Ted and never had the chance to see him live. We had the opportunity once when he was in Austin, but it was the same night as The Gourds first gig ever. We discussed not doing the gig and going to see Ted instead, but we decided that we couldn't cancel our first gig and Ted Hawkins will be back…..little did we know [Hawkins passed away in 1995]. I just loved him so much and in doing the record last year I got to meet his wife and daughter who came down, hung out and sang on the record. They blessed the whole thing which was just a wonderful feeling.
Switching gears a bit, will you be touring nationally to support the release?
We probably will not do an extensive national tour, but we'll play around the country depending on what festivals we are at this year. The model for the band is to be a regional band, which is easier for us to do and makes more economic sense, especially with such a big band. But, we will be around the country at points and times wherever the opportunities are.
Finally, you've been around the scene for a while, so are there any up and comers or any artists that you recommend people give a listen?
Well, I always recommend people check out my friend Raamsey Midwood; then there's two talented brothers out of Austin, The Peterson Brothers, as well as Curtis McMurtry, Eli Williamson, and Brennen Leigh.
​For more information visit the
official website
Find Shinyribs on
Facebook
,
Twitter
&
Spotify
Purchase
I Got Your Medicine
HERE