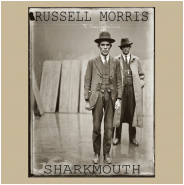 ​
Listen to Sharkmouth on
APPLE MUSIC | AMAZON | SPOTIFY | ITUNES

(Press Release)
Australian Icon
Russell Morris
is excited to be releasing his award winning album
Sharkmouth
here in the U.S. that has been added to SiriusXM's B.B. King's Bluesville, with early airplay at KPND (Spokane), KKXT (Dallas), KDNK (Carbondale) and WNCW (Charlotte).
Sharkmouth
is the first album in a trilogy of records that sees Morris return to his early influences of American Roots & Blues.
"Originally I intended to do a blues album,
" says Morris, "
that was derivative of American delta blues, and rhythm and blues. However after my first song efforts, it felt contrived ; mainly because I was singing about things I did not have a deep understanding of. However, I realized that our countries - the U.S. and Australia - are both similar, and different. So I decided to base my blues around what I knew - the legends, and stories about my country. Strangely, they are both local and universal at the same time."
Australia and America have very similar cultural beginnings of being places of refuge for the unwanted and displaced, so it's no surprise that Morris' music resonates strongly with the American musical traditions of documenting the history of lesser known characters that have helped shaped the fabric of the culture. The initial idea for Sharkmouth came to Morris on a trip to Sydney, where he saw the famous 1921 arrest photo of con-man Thomas 'Shark Jaws' Archer. Morris had a powerful reaction to the photo. The photo spoke to him encouraging him to tell Archer's story about his life and the terror he evoked. This story was the launchpad into Morris' signature story driven songwriting inspired by the gangsters, gamblers and backstreet dwellers of Depression-era Australia.
The album revitalized Morris' music career and upon it's release in Australia,
Sharkmouth
reached #1 on the iTunes Blues Charts, #1 on the Australian Blues Radio Charts, Russell received the ARIA award for Best Blues and Roots album and Sharkmouth went on to be the highest selling record of the year.