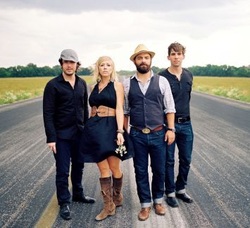 Drew Holcomb
and his band, The Neighbors, are made of surprises. Holcomb himself is a tangle of seeming contradictions; a bourbon drinking divinity scholar with a penchant for duck hunting and first edition books. The Neighbors (Ellie Holcomb, Nathan Dugger, and Rich Brinsfield) are a close knit group of friends and family who, together with Drew, have hit a new stride.
Ten years and 1500 shows into their career, they have sold out headlining tours and played alongside the likes of The Avett Brothers, Ryan Adams, Los Lobos, and Susan Tedeschi.
Their sixth studio album,
Good Light,
showed the band at a new peak, taking their brand of Americana back to the basics. Says Drew, "On past albums I was searching for my voice, both literally and figuratively. I co-wrote a lot of songs, peppered the music with too many influences, and let too many other voices in my head."
Their new album,
Medicine,
will be released January 27th.
Where: StageOne
When: Monday, March 30th
Doors @ 7:00 PM
Show @ 7:45PM
Tickets $23