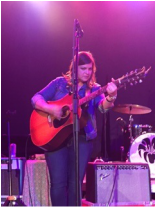 -Harriett
Hailing from Knoxville, Tennessee, but always sure to feel at home in North Carolina, The Black Lillies made a welcome tour stop on December 2nd at Raleigh's Lincoln Theatre. They brought their unique brand of soulful, blues infused country to a packed house ready to celebrate the band's first time headlining the venue.
The night's opener, Elise Davis packed a punch in her all too short set consisting of several songs from her 2016 release
The Token,
one of my favorite albums of the year. Small in stature but large in talent, she showcased her prowess as a stirring vocalist, wryly honest lyricist, and engaging performer on songs examining life and relationships including such highlights as "The Token", "Benefits," and "Pretty Girl". Fans of Lucinda Williams and Elizabeth Cook should check out her music and her touring schedule at
www.elisedavis.com.
The Black Lillies hit the stage at 10 PM to begin their set which, with the encore, included nineteen songs from their catalog and two extremely well done covers. Cruz, Trisha and the band were on fire from the opening notes of "Two Hearts Down" and kept the high energy going throughout the night. With so many long time fans of the band in attendance, practically every song turned into a group sing-a-long. What was truly a great night of fine music was slightly bittersweet since this run of shows will be the last for stellar vocalist Trisha Gene Brady. No doubt she will be missed. Every time she stepped up to the microphone she was showered with applause. I look forward to seeing what lies ahead for her.
At midnight The Black Lillies took a bow and left the stage to return minutes later to remind everyone why you should never, ever leave before the encore. Hearing their covers of Buffalo Springfield's "For What It's Worth" and Eddie Rabbitt's "Drivin' My Life Away" was well worth the wait.
Check out their bio, music and tour schedule at
www.theblacklillies.com