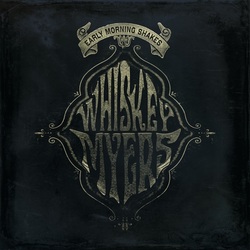 Plain and simple, Whiskey Myers is a band which makes good, honest music. Hailing from Texas, the five members of the band, Cody Cannon, Cody Tate, John Jeffers, Jeff Hogg and Gary Brown, write songs that are stories; stories about celebration and sadness, hardship and jubilation. They pull from, and seamlessly mingle, a wide range of influences resulting in an unique sound.
Their 2011 release,
Firewater,
enjoyed great success on the Texas charts culminating with their single "Anna Maria" reaching #1. They continue to play for larger and larger crowds, drawing in new fans with their music and dynamic shows.
Now, Whiskey Myers is readying the release of their third album
Early Morning Shakes
on February 4th. Their singer, Cody Cannon, was gracious enough to check in for a fun chat about the record, touring and how they like to operate.
We heard that you had to cancel some shows due to strep throat. How are you feeling?
I don't know if it was strep, but I was horizontal for like, four to five days. My throat didn't get any worse, but I had the fever and chills. I got some antibiotics and now I'm better and ready to go.
Tell us a little bit about Whiskey Myers. Are the members of the band related? How did you decide to write and play music as a career?
Kinda where we're from, everybody is related
(laughing)
. Gary, who plays bass, is my cousin, that's the only real relation in the band, but all the rest of us guys are friends. The only other relatives involved with the band are some cousins who are in the crew. We have been together as a band for about six years. As for making it our career, this was our first project, and it kind of just happened. It's just so weird now that it is now our career. John and I started playing guitar together when we were about sixteen. His Dad gave both of us lessons and for me it just kept progressing from there. I started writing songs and then we got out there and played locally. Then we were touring and suddenly we were like 'this is what we're doing for a living.' It wasn't like a set plan and now, we don't really know how to do anything else.
On your previous two albums, you can hear so many different genres of music represented from Southern Rock to Country to Blues. Does this represent what you listen to and are there any artists in particular that stand out as influences?
Our influences are very vast. Our style kinda reflects what we listened to, what was imprinted on us by the music we have been listening to our whole lives. You know, we really love everything from the old classic country, I was six years old when I got my first Hank Williams Jr tape, to rock n' roll and southern rock. We listen to a lot of Zeppelin, The Band and Neil Young. We're very diverse. We like everything from jam bands to the blues to the Stones, because you gotta love the Stones.
With all of the influences, how would you describe the music of Whiskey Myers?
You can call it 'country boys trying to play rock n roll.' People call us southern rock or country, but it's just music to us. It really is hard to put us in a genre, which I am not really a fan of anyway, but I guess it's what people need to do. I think a good song is a good song. We just stick to putting out good music.
You have a loyal and growing fan base, first in Texas and now all over the country. Is Texas a genre unto itself or just a better place to get your music out there and be heard?
I think both. I mean, Texas has red dirt music which is like its own genre. In Texas and Oklahoma they have a lot of their own local stations that bands can get airplay on. Plus, Texas is so big that when you get out there it's like touring a small country and the fan base is just so great. So many great musicians and artists have come from Texas. It's just a great place for music.
Talk about the new album Early Morning Shakes which is coming out on February 4th. Did you do anything differently when making this record?
We did one thing, but it wasn't on purpose. I wasn't able to sing because I had vocal issues from touring a lot. So a year ago we went in for four songs and we ended up laying down part of the album, but there weren't any lyrics. I had to write all songs in a couple days in hotel room in Division Street on Music Row. I had sticky notes on the wall like a crazy person when I was writing this album. So that was kinda different for me
(laughing).
You know, we don't do a lot of stuff that's planned; we kinda operate on the fly a lot. We worked with Dave Cobb [Jamey Johnson, Jason Isbell] as a producer, which was awesome. He was just brilliant and was able to capture some really great sounds from us in the studio that we had never gotten before. Everything that we used on the album for recording, from the microphones to the amps, was old. This was really important to us because we feel that the old stuff just really sounds better. For example, we used a Helios board, and John got to use a 52 Gold Top and a 66 Silver Tone that a lot of great artists before us had used. I think that's how we were able to get some of the sounds we got and it turned out really well.
Why did you choose to use Early Morning Shakes as the title for the album?
Because it's the coolest song I have come up with in my life! I am not usually a fan of naming records after songs. With
Firewater
, we just wanted to have a separate name for the album, something different. It wasn't our plan to name the new album after a song, but the song is just so cool that we felt that we had to use it.
You played NYC a few months ago and you will be back at Rockwood Music Hall on January 28th.
That was our first time in NYC when we played Hill Country Live. It was quite shocking. We are all from the woods, I mean
literally
from the woods, and it sure didn't look like home. You know, I graduated high school with twenty two people and Gary graduated with sixteen, so where we are from is totally different than NYC, but it was pretty cool. We're glad to come back and play some music off of the new album.
So what are the band's plans for 2014?
We are always touring and we will continue to do that. We never really stop. It's how we, and a lot of musicians, make our living. We'll come to NYC and then fly out to Seattle to meet the crew and do a West Coast run for two weeks. Then we'll head to the Midwest. We might make a stop back home for a few days, but then we are right back out on the road again. It's just what we do. We're always on the road.
On your website there is a video talking about the origin of the name Whiskey Myers. What does it mean exactly?
Let's think on that. I'll go with Spanish for fighting rooster. It can mean a lot of different things. You know, Whiskey Myers, he's like Bigfoot around these parts. I've seen him, I have a photograph as proof, but it's blurry
(laughing)
.
Is there one record that you are listening to now on repeat?
Man, it's been so long since I bought anything, hold up and let me think a second. I have been on a Creative kick lately. But I'd have to say
Southeastern
by
Jason Isbell
. He's a brilliant writer and it's just a terrific album.
Whiskey Myers will play at not to be missed show at Rockwood Music Hall on January 28th at 8:30pm. Tickets are available here.
To pre-order
Early Morning Shakes
and find out more about Whiskey Myers, including the origin of their name, visit
www.whiskeymyers.com
Follow them on Twitter
@whiskeymyers
Find them on
Facebook