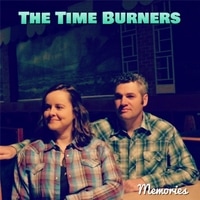 Hailing from Nebraska, husband and wife duo,
The Time Burners
met playing music in high school and have been together ever since. In 2016, they played a large variety of shows including several major events such as the Nebraska State Fair, Iowa State Fair, Omaha Summer Arts Festival, and the Nebraska Farm Bureau Foundation Grower's Gala. And in January of this year they released their latest full-length,
Memories,
which blends classic country, rockabilly, and roots music into a collection that reminds one of the timeless songs of yesteryear.
Kicking off with the bright shuffler "Just Getting By"
Memories
features Becky and Travis alternating lead vocals and displaying their sweet harmonies throughout the ten track project. Becky's classic voice take the lead on two tracks that will have you on your feet: "Walking Away From You" and the rollicking "Hop, Bop & Roll," while Travis goes delightfully retro on "Meant To Be" and "Rick Rack." The album is rounded out by the ballads, "Like I Want You Too" and "One More Love Song," before closing with the jaunty "Rebekah Darlin'". With the majority of songs here are under the three-minute mark,
Memories
goes by fast, but it's a pleasurable listen you'll undoubtedly play again and again - and might even make your own memories to.