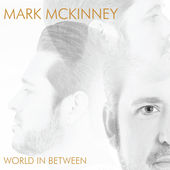 Mark McKinney returned January 20th with his new album, World In Between, which is the singer-songwriter's fifth release and first since 2013. The album contains eleven tracks, all written or co-written by McKinney, that center around life, love, struggle, and resilience and include recent TRRR #1 "Sunshine" a touching song about his wife's strength as she battled illness.
Harmonica leads (and pulls you right in) on the opening track, "90 Miles" on which McKinney's vocals convey a strength, warmth, and resolve on a tune about life as a troubadour while things take a darker turn on "Bridges" whose ominous undertones (courtesy of banjo and fiddle) compliment the story of a woman who keeps stoking the fires of an old relationship, and "Alright" which tells of a man whose idea of fun keeps getting him into emotional trouble
"Cause I'm all yours on beer, weed, and good whiskey and right now you're exactly what I need."

While McKinney deals with grittier parts of love, he also deals with the sweeter as well. Written with his wife, "Bacon & Eggs" is a delightful ode to being with someone and having each other's back "You're my twin soul and two hearts make us whole" while "Yours" is upbeat and romantic and "Close" brings the heat
"When my pillow talk turns to a whisper, she knows it's time to get close."

The album is rounded out with the humorous "Mondays," the practically perfect "Stories" where he sings
"Every day is another page, another 24hour gift/And there's no such thing as growing old aw hell that's just a myth"
and "Revolution."

World In Between
is a strong collection of well-written songs that reflect and elicit a myriad of emotions, just like life itself. For more information visit
HERE.