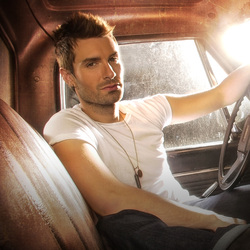 Alabama native David Fanning is an accomplished songwriter and producer for artists such as Parmalee and Thompson Square. Now the time has arrived for him to add another title: artist. David has released a country version of Justin Timberlake's "Drink You Away" that is gaining momentum on Sirius XM 's The Highway. David graciously took some time to chat with us about the single, the many hats he wears and what's ahead for 2014.
You grew up on a farm in Alabama. Tell us a little bit about yourself including how you got from Alabama to Nashville.
Well, I officially moved to Nashville about seven years ago. I was doing music in Ardmore, but like everyone who wants to take it to the next level, I knew Nashville was the place to be to make that happen. I took a little bit of a detour to LA, and really liked it there, but it didn't feel like home. I knew I would rather be back in the south.
Was music something you wanted to do from a young age?
Yes. I have been performing pretty much my whole life. When I was growing up, my family would do a capella 1950's and 1960's musical shows on the weekends. So every weekend I got to be a part of a little band, with my gig being their Elvis impersonator. I did this until I was about fourteen years old.
Why did you gravitate to the country genre?
Well, you can't grow up where I did and not be a fan of country music. We lived in the boondocks; the nearest Wal-Mart was forty five minutes away. Growing up, my sister was a massive, massive country fan. She made me join the Bryan White fan club with her
(laughing)
. I listened to many different things from 90's rock to the stuff I did with my parents, but I always liked country.
Do you have anyone who is a specific influence on your songwriting?
I have a bunch of writer buddies, but I really think the person who has had the most influence on me as far as being a writer goes, is David Lee Murphy. I'm not even sure if he knows that. He's one of the best there is and can really write just about anything. He has written hits for himself, like "Dust On The Bottle," and songs for so many different artists. He is just one of the most talented and coolest dudes ever.
Growing up and listening to a variety of music, I really liked the GooGoo Dolls and Train. Not too long ago, I was listening to them. If you think about it, those bands wouldn't be considered rock anymore today, especially if you added a steel or banjo, which is the kind of stuff we did with Thompson Square and Parmalee.
Speaking of Parmalee and Thompson Square, you have written songs for them, as well as other artists, and are a part of the New Voice Production team. Were writing and producing the goals when you came to Nashville or was being an artist always something you wanted to do?
Being an artist was always the goal. What happened was I met Rich Redmond, Kurt Allison and Tully Kennedy. When I moved here Aldean wasn't where he was at now, he was still on the climb. They cut a few sides on me and we just hit it off as friends and found out that we work really well together. We started working on my project, but then we got asked to work with Thompson Square on a showcase for Stoney Creek. We cut "Let's Fight," "Are You Gonna Kiss Me or Not" and another song no one has ever heard called "The Joneses." That was what opened the door for the producing. Once "Kiss Me" became so big, I felt I had to change my focus a tiny bit because it would have been crazy not to take advantage of being able to do that.
While I was working on other artist's projects in the studio, I was learning so much. I'm glad it all happened that way because it was working with other people that helped me grow as an artist, even without being on the road as much.
During your time producing and writing for others were you writing for yourself as well?
I was always writing a ton and have done it all different ways: writing for myself, writing for others and just writing to write. Sometimes we just wrote for Keifer and Shauna or Parmalee. When I found those guys we wrote "Musta' Had A Good Time" in a RV in the Tin Roof parking lot in Nashville when the floods were happening. That was where it all began with them and look at them now.
In this past year I have been writing for myself and that's been cool. It's really fun to write for others, but now I get to say what I want to say for myself.
You covered Justin Timberlake's "Drink You Away" which is being played on Sirius XM's The Highway. Can you tell us the story behind you recording that song?
The whole thing went down pretty quickly. It was like 8am on a Tuesday when I got a call from Storme, I was still asleep, but I thought 'Storme's calling, maybe it's something, and I need to get this.' He's like 'hey dude, I got this artist coming in on Friday, and I want to see if maybe you want to take this song and make it into it a country song.' I was like 'okay, what song?' and he tells me it's "Drink You Away." I was like 'who's your guest on Friday?' and he said 'Justin Timberlake is coming in.' I was really busy, so I told him I would try, but I couldn't promise anything. Luckily, I was able to put a session together and cut it Tuesday night. I went out of town and then Thursday night came back, sang lead and harmonies on it, and mixed it all night with my buddy Jim. On Friday at 6 or 7am I had it to Storme. Justin heard it not too long after that. It happened so fast, but it was a blessing that it happened that way because I had no time to over think anything. The hardest thing for me was taking it from a five and a half minute song to a three minute song that country radio would play....and not make Justin unhappy.
Well, Justin definitely isn't unhappy. He has had only good things to say about your version. In addition, the song has gotten quite a positive reaction from listeners. How does that reception make you feel?
It feels awesome. I was so crazy nervous when I did it. Then I found out Justin would be on air and listening when The Highway debuted the song. I couldn't even listen, I didn't even tune in. I kept texting Storme asking how it was going, asking him to please tell me if it was good. I finally went back and listened to the interview with Justin an hour later when I knew I didn't get dissed on air
(laughing)
. People liked the song and The Highway wanted to go with it, so we decided to run with it.
You don't have to ask for permission to do covers, but my camp reached out to Justin's camp and one of the coolest things is that he gave me not only permission, but his blessing. He could have had anyone in the world cover that song and it is so cool that he supports me and is behind me.
What are your plans for 2014?
I hope that "Drink You Away" continues to do well. I think everybody who has heard it likes it and I think it's a cool introduction of my music to the world. I am getting more music ready too. We started working on a record in the studio two weeks ago. I know nothing in this world is ever a guarantee, but I'm ready to work.
You wear so many hats, how are you planning on balancing writing, producing and being an artist?
Everybody asks me how I am going to do it all. I guess the answer is just never sleep
(laughing)
. I don't want to give up producing because it's a passion of mine, you know. I will find a way to juggle it all and figure out how to make it work. I would definitely prefer to be busy than not.
What are you currently listening to?
I switch on XM and listen to everything in the world. On the pop side, I really like "Say Something" by Great Big World with Christina Aguilera. It's such a great chill out song for me. Then on the country side I really like Cassadee Pope and also the new Miranda song. Honestly, I listen to so many different things and am a fan of almost everything out there. I have to make sure I'm not behind the times, so I never stop listening.
For more information visit
http://redbowrecords.com/artists/david-fanning/
Follow David on Twitter
@DavidFanningMuZ
Find him on
Facebook
Listen to "Drink You Away" below.