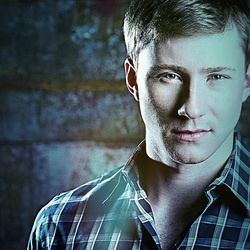 New York state native Bobby McGrath is a contemporary country music singer songwriter who now lives in New York City and performs throughout the Northeast with his band "The Brothers." In 2013, he released a five track EP and this past month he performed on
The Today Show.
This Thursday, Bobby and The Brothers will open for Frankie Ballard at the Highline Ballroom in NYC. Bobby graciously took the time to chat with us about his influences, the EP, playing on
The Today Show
and more!
Tell us a little bit about yourself including when you decided to pursue music professionally.
Well, I grew up in a small town outside of Albany [NY] and I attended college in Hartford [CT]. My older brother was already living in New York City, so about six years ago I decided to move there.
My parents were lifelong musicians; I grew up with different types of music around me all the time. My mom was a folk singer songwriter and my dad played the guitar and sang. We always had tons of instruments around the house that I was constantly picking up and playing. Once I graduated college, I knew that I wanted to write songs and play music in some capacity. Being from upstate, I thought the city would be a good place to start.
Being that your parents were musicians, were they a big influence on you?
Absolutely! My mom brought the folk influence, of course, and my dad was more into rock and roll. His favorite band is The Doors.
My parents have always been very supportive, especially of my songwriting, which began at a young age, but really became a passion in college. When I got to college, songwriting really went from being a hobby to being something I needed to do. I would constantly have song ideas in my head that I would need to write down. It was at this point that I began writing country music exclusively. I just really connected to country music as a songwriter. I really gravitated to country music because of the story telling in the songs.
Who are some of your musical influences?
I always consider myself a songwriter first and foremost. As a writer, I am drawn to 90's country, as well as songwriters such as Rhett Akins, Dallas Davidson and Ben Hayslip [the trio comprise the group The Peach Pickers]. I enjoy following what they do. Other influences include George Jones and George Strait, who can tell a great story and draw an audience in like no one else.
As a kid I was a blues-hound, so my influences as a guitar player include Stevie Ray Vaughn, Muddy Waters, and B.B. King.
When did you start playing guitar?
Since instruments were always in the house and I was always picking them up, it's really hard to pin point when I formally started playing. I think that I really started focusing on playing around middle school. My parents taught me the basics and some chords. I ran with it from there.
In September of 2013, you released your debut EP. Talk a little bit about that.
Well, it took about six months to record, which we did in Nashville. I was lucky enough to work with Russell Wolff as my producer on the project. We had Martina McBride's touring band play on the record, as well as other musicians such as Jenee Fleenor, who is the fiddle player for Blake Shelton.
I wrote all five tracks on the EP, three independently, and two with Russell.
Recently you were on The Today Show. Tell us about that experience.
The Today Show
was looking for a house band for a southern cooking segment, and they asked us, which was incredible. We were able to perform one full song, but we have not been able to see it yet. Hopefully we will get the footage soon, and once we do we will put it up for everyone to see.
This Thursday (April 24th) you are opening for Frankie Ballard at The Highline Ballroom in New York City.
We're pretty excited! This will be our first time opening for a national act. We are so fortunate to get to open for Frankie, whose song just went to #1 [Helluva Life].
Previously, we have played at The Cutting Room, The Bitter End and B.B. Kings in NYC, but have not played The Highline, which is an awesome venue. We were at a show there last year and thought to ourselves 'wouldn't it be great to play here someday.' Now we have our chance and we are really very excited!
Your band is called "The Brothers." Are you related?
Tommy McGrath, my older brother, plays bass. Trevor Collins is our lead guitarist. He came into the band about a year and a half ago and really helped us pull our sound together. Billy Trimarchi, who is our drummer, grew up playing music with me. We also have a keyboard player, Aaron Brady who is spending time with his newborn, but will be with us at The Highline show.
What are your plans for 2014?
We are working on a few opportunities. After The Highline, we will go to Key West in June to play some shows, which we are really looking forward to! We are letting everything come together and are really excited about the future.
What are you currently listening to?
I just love Craig Campbell's new song, "Keep Them Kisses Comin'." In fact, I woke up to that song this morning. When NASH FM [the country radio station in NYC] came to New York City my world changed because now I have country radio on all the time!
For more information visit Bobby's
official website
Find him on
Facebook
Follow him on
Twitter
Listen to "Gasoline" below