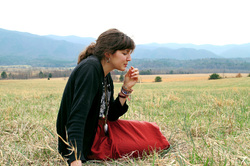 Caroline Rose is a singer songwriter who values independence and maintaining creative control over her artistry. Last year, she released her debut album
American Religious
and is currently readying her follow-up. We caught up with Carloline last week when she took the time to chat with us about building a grass roots fan base, her new record and much more.
Tell us a little about yourself and how you came to pursue music as a profession?
I really came to pursue music though a series of happy accidents. I started playing the piano when I was really young, but the lessons didn't last long because the teacher gave me homework! I picked up the guitar when I was about thirteen years old and taught myself. I'm not really good at theory or reading music, I just play by ear.
Basically, I ended up pursuing music professionally through failed attempts at other things. I had a full ride to college where I studied architecture. After a while, I became disillusioned with it. I wanted to travel and see the world, which I did, even living out of my car for awhile. It wasn't the most glamorous lifestyle, but I got to do what I wanted and write the type of music that I wanted.
I played music for a long time, but for myself. My music was very personal; it was like a form of therapy for me. Early on, I was afraid that making music for a living would ruin my love of writing. Then, maybe two years ago, when I was living and working in Brooklyn, I decided that maybe I could build something out of the music. After I got let go from a job at a grocery store, I decided to pursue music; be my own boss, write my own music, compile enough songs and start touring. Although other people saw potential obstacles in my way, I didn't. I just did it. My own life is a really random, meandering adventure which music dictates pretty well.
You have done everything independently and really built a fan base from the ground up.
Everything about my music is a very grass roots effort. We supported the music by playing shows and from there it seemed to have a snowball effect; people really started catching on [to the music].
Sirius XM started playing some of our songs and helped promote our shows by way of radio and emails. We started touring around the country and played everywhere from house concerts to alternative venues, people's garages, barns, living rooms and backyards. I am so proud of being a self-made artist especially in the industry today. Every success we've had has been due to really hard work…and some luck.
Talk about your first record, American Religious, which came out in 2013
.
America Religious
was a labor of love. My musical partner, Jer, and I co-produced the album and recorded it ourselves in a studio in Vermont. All of the songs and arrangements are my own. We played almost all of the instruments. Really, whoever was in the studio first and could get to an instrument was really how we decided who played what. For example, I didn't know how to play cello, so I rented one and played the part over and over again until I mastered the sound I wanted. I did the same thing with the lap steel parts.
What types of music influence you?
The sound that I'm currently making is largely inspired by Ryan Adams. There is an edgy quality to his songwriting that I relate to. Before that, I listened to a combination of things from rock to jazz to British folk and rockabilly and honky tonk.
I don't want to create one type of music for my entire career; that would seem so boring to me. So right now, I might be making music that is alt country meets rockabilly meets British folk, but that is going to change. I'm going to get tired of it. So what someone will hear on this new album will definitely be different from subsequent albums.
You have a new record coming out this year. Tell us a little about it.
I am working with the people at Thirty Tigers who are known for giving artists a ridiculous amount of creative control. The industry has changed so much in the last five to ten years that working with a small company gives you all sorts of freedom. It's really the best of both worlds: you get attention [from the label] and they let you be creative.
With my work, I desire and demand creative control. My whole life is dictated by having the freedom to do things in my own way with my own set of rules, a philosophy that carries over to the music. With Thirty Tigers, I get to make decisions pertaining to my music that I probably wouldn't be able to do anywhere else.
The new record will be released in August. It is titled
I Will Not Be Afraid,
which is a song on the
American Religious
record that we recut with a full band. It now has much more of a genre-bending feel to it. I am so proud of it.
You wrote everything on your first record, is that the case on the new album?
Yes. I don't co-write. I also don't like other people giving me production critiques. I go into [writing and recording] with a very clear image in my mind of the picture I want to paint and the palate I want to use to create my music. I really think it is important for me to be honest with my music.
So in addition to the new record, what are your plans for 2014?
We will release the new album and plan on doing a heavy amount of touring, with lots of festivals.
On May 16th you will support Hayes Carll at The Bell House in NYC. How did that come about?
I am a huge Hayes fan. We work with some of the same people and when I got the offer to play with him, I was thrilled. I hope it is the start of a musical relationship, and we can play with him many more times. I'm super excited about the show.
Caroline will be supporting Hayes Carll at
The Bell House
in Brooklyn on May 16th. For tickets and information visit here
For more information visit Caroline's
official website
Find her on
Facebook
Follow her on
Twitter