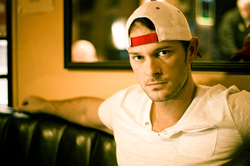 Hitting the pavement non-stop, M Callahan has been performing at venues from the Houston Rodeo to Nashville's Country Music Hall Of
Fame. He is currently working with producer Michael Hunter Ochs (Dove Award, Eric Heatherly, and Josh Groban) on a new record that will further develop his own distinct brand of country music. M Callahan took some time to chat with us about his newest EP, his influences and more.
Tell us a little bit about how and when you decided to pursue music professionally
.
Well, I first picked up the guitar at eleven years old, but I didn't think then that I was going to be making music for a living. I just thought the guitar was cool and I wanted to learn how to play. As time progressed, it became more of a passion and I couldn't really deny that I wanted to do it full time. However, I grew up in strict Catholic family who wanted me to go to college and get a regular job. But, you know, after awhile you can't deny what you want do in life. So I decided to take a chance and pursue music because what's the point in living if you don't do what you want to do in life.
You are originally from Arkansas, but when you initially decided to pursue music you moved to Texas. Why Texas?
I had a buddy that was living in Austin who kept telling me what a great music scene was down there. I decided to move there because I could both attend school and play music. At the time I wasn't necessarily playing country. It was more southern rock and an amalgam of different music. In Austin, I studied music business, music production, and took piano lessons. I learned how to read music, record music and improve my playing and writing. I learned a great deal.
Now you are based out of Nashville. What spurred the move from Austin to Music City?
I was playing music at night, but at the same time I had day job, which I was laid off from. When that happened, I just thought that now was my chance. If I was ever going to go to Nashville, it was now or never. I took the plunge and I have been in Nashville going on five years.
Early on, you did not always perform country music. What made you eventually gravitate to it?
I wasn't always playing country music, but when I look back, I can see a country influence, particularly from Merle Haggard and Townes Van Zandt, in what I was doing as a singer songwriter. As time went on, I found more of my roots. When I was young, my dad played guitar and we would sit around together listening to Kenny Rogers, Johnny Cash and Tim McGraw. But when I was a kid I didn't want to like country music because you know, when you're a kid it isn't cool to like what your Dad likes. But, I realized that I love it and it's very natural to me.
You mentioned Kenny Rogers and Merle Haggard as well as others. Are those artists that you cite as influences?
Yes, definitely. Merle is a huge influence on my writing and vocals as are George Jones, Randy Travis, Tim McGraw, and Joe Nichols. I'm influenced by a lot of people, not necessarily one artist in particular.
Since you have been in Nashville, do you think things have progressed quickly for you?
I think when someone moves here they want something to happen right away.....and sometimes that happens. I think I was chomping at the bit, wondering why someone didn't discover me or offer me a record deal. But I think you just have to earn your stripes and realize the goal is to become a better artist, singer, musician and writer. I want to find my unique voice and have something unique that I can contribute to people's lives. I want to be someone you can listen to and think 'I've never heard that before or I've never thought of that in that way' with regards to something that I am singing about. But, it takes time to find that. I continually work on my voice and songwriting and I think everything is progressing at the speed it should be. I don't want to speed things up and release an album that's terrible. I want to come out with album everybody loves.
You released your most recent EP, which was an iTunes "New and Noteworthy" release, in February of this year. Tell us a little about that
.
I had a full album completed, but then I signed with a digital distributor who suggested we release the full album as two separate EPs. So we took five tracks for one EP
(Trailer Park Paradise
) and then the second five tracks on another EP
(Chicken On A Chain)
and released them to iTunes as separate projects, the second being released this past February. The complete album is for sale via
amazon.com
and can be heard on AMI jukeboxes across the country.
I am very excited because this summer I have a new EP coming out. It will include all new songs that I co-wrote with songwriters such as Michael Ochs, Kevin Post and David Elliot Johnson
. We also might put a remix of "Trailer Park Paradise" on there as a bonus track.
You have a growing fan base in Europe and recently your song "God's Green Earth" was included on the Maverick magazine sampler.
I love Europe and they love country music. They have been playing my music on the radio over there, for which I really am thankful. If they enjoy what I am doing and keep playing it that's awesome. Hopefully, I might end up touring over there later this year.
It was really great to be on the Maverick sampler. It is a compilation cd of about fifteen songs that they release attached to the front of their magazine. It really means a lot that they included my music and are helping get the music out there.
Congratulations! You recently won Best Male at the Indie Music Channel Awards.
Yes! They had their award showcase in Los Angeles, which I didn't get to go. It was so cool to be nominated and I am really grateful and honored to have won the award.
What are your plans for 2014?
I am really focusing on the new EP and getting it released. We will probably play some shows in the Southeast region because it is close to Nashville. We also may release "God's Green Earth" as a single in Europe and push it to secondary markets in the US.
Is there a recent album that you have on repeat?
I listen to a lot of internet radio, but a new artist that really caught my ear is Cody Johnson, especially the song "Bottle It Up."
For more information visit his
official website
Follow him on
Twitter
Find him on
Facebook
Purchase his music on iTunes
http://smarturl.it/mcallahan