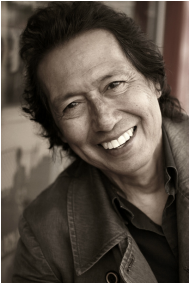 ​Held in Challis, Idaho, the Braun Brothers Reunion is three days of music featuring respected artists from the Texas, Americana and Red Dirt scenes. This year, the BBR will be held from August 11-13th and will feature sixteen plus artists, including esteemed singer-songwriter Alejandro Escovedo, who was named No Depression's Artist of the Decade in 1998. In our continuing series featuring some of the artists at this year's BBR, Mr. Escovedo very graciously agreed to talk about the festival, his new record and more.

This will be your first time playing at the BBR. What made you want to be a part of it?
I've played in Idaho quite a bit, but this will be my first time at the festival. I've heard nothing but great things about it and how beautiful the location is. Plus, I'm always happy to see those guys [the Brauns]; they're really nice people. I know they've done a few of my songs, and I feel like we've always had a connection. I'm looking forward to being a part of it.

Being that you're playing on the first day, will you be staying the remainder of the time?
We're hoping that we can spend some time there because we would like to go hiking and hang out, but I'm not sure. It would also be nice to be able to stay and listen to the other people playing. I live in Dallas now, and the community started to host music events at night. I went to see a great band, the Texas Gentleman, and they happened to learn a song of mine. I didn't know they were going to ask me to play, and it was nice they did, but I declined in order to just listen, which is something I don't often get the opportunity to do.

That's a sentiment I have heard often lately from artists I have spoken with.
You frequently speak of your musical influences, but you've influenced many artists as well. All of the Brauns, who as you mentioned cover your songs, really seem to respect you.
I love their story and how music is familial to them. I admire their perseverance and have a lot of respect for the fact that they worked outside the system to create and build their own thing, which is a wonderful way to approach music.