Raised in Connecticut and currently residing in Florida, singer-songwriter and multi-instrumentalist Caroline Jones recently released her new single "Tough Guys." The song, from a forthcoming country album, is a tongue-in-cheek foot stomper that speaks to personal empowerment. As the single takes off on Sirius XM's The Highway, Jones kindly answered a few questions via email about the single, it's accompanying video and more.


Since many listeners might be new to you, can you briefly talk about when you decided to pursue music professionally and what drew you to Nashville and Country Music?

I have been writing poems and stories since I could read. When I was nine years old I began singing lessons, and once I realized I could set my poetry to melody, I knew that music would be my life's work. I went to Nashville for the first time when I was seventeen and fell in love with the community of songwriters and musicians there who emphasize craftsmanship and storytelling.

You play a wide array of instruments! When did you start learning them and were you self-taught?

I took piano lessons as a young girl and picked up the guitar when I was seventeen. I felt inspired by Jewel, who was the first artist I saw capture an audience's attention with just her voice, her guitar and her stories. I toured solo acoustic for several years, and I learned other instruments in order to make my show more compelling and varied. I also became a fan of acoustic blues, so I began playing slide and experimenting with different tunings, which led me to the banjo, the harmonica and the dobro.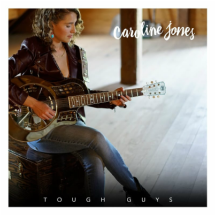 The current single, which is quickly ascending the charts on Sirius XM's The Highway, is "Tough Guys." Can you tell the story behind the song?
I wrote "Tough Guys" about being unapologetically true to yourself. The lyric is very tongue-in-cheek and sassy; it calls out the hypocrites who think you should be different so they can feel better. Small-minded people can feel threatened by authenticity or originality, and it is important to recognize those distortions so you can remain true to yourself.
It has such a playful, yet sassy, assured attitude. Where do you draw from when you write?
I've always written from raw inspiration – I begin with a phrase, melody, chord progression, or a concept, and my best songs are the ones that pour out quickly and effortlessly. "Tough Guys" began with the play on words in the hook: the caricature of "Tough Guys" juxtaposed against the phrase "Tough, guys".
The video recently premiered on AXS and it really conveys the attitude of the single. How involved were you in deciding on the treatment for the video?
Director Paul Boyd (Shania Twain, Stevie Nicks, Mick Jagger) had the vision for the iconic, stylized black and white treatment, which I loved, and we collaborated on the storyline involving the "Tough Guys". I wanted to make sure that the attitude and intention of the song translated visually: the interaction with the "Tough Guys" had to be tongue-in-cheek but still powerful. I love old Westerns –John Wayne, Jimmy Stewart, Clint Eastwood – and the idea that slapstick can have a backbone. The video treatment gave me the opportunity to work with trained stuntmen (!) and we created a fight scene that hopefully is simultaneously exciting, punchy, and cheeky.
2017 seems like it will be an exciting year for you. Is there anything you can tell us about what's ahead?
I will be releasing my album in the Spring of 2017. I wrote every song and co-produced it with Ric Wake (Celine Dion, Trisha Yearwood, Mariah Carey, Whitney Houston). I also played all the instruments on the album except bass and drums. I am proud of this body of work and very excited for fans to hear it. And I will absolutely be touring come Spring.
Finally, do you have a favorite album from 2016?
The Weight of These Wings
by Miranda Lambert. And I cannot wait for John Mayer's forthcoming record.
For more information visit her
official website
Find her on
Facebook
,
Twitter
and
Instagram
Listen on
Spotify
and
You Tube
Purchase on
iTunes
Watch "Tough Guys"
HERE