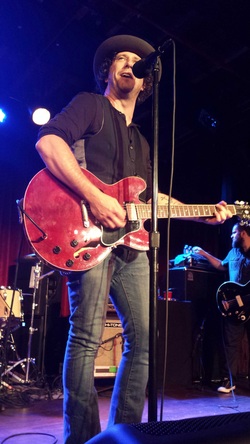 There was no better place to be Wednesday night
than in Brooklyn at The Bell House for Will Hoge's record release show for 'Never Give In' which was released on October 15th. With a capacity of about 350 people, the venue was a perfect one to see an intimate performance by this skilled singer/songwriter and musician.
Will and his band came out around 9pm and for an hour and a half they never let up. As someone who attends many, many shows, I can tell you in all truth there is nothing quite like a Will Hoge show. He gives you all he has and then some. He has energy, passion and soul which you can see & hear throughout the set. In addition to all of that, he is engaging, personable and funny. He told a story about how coming into the city for the gig their van got pulled over by a cop. The cop asked him if he was a musician, of course he said yes; then the cop asked him his favorite Rolling Stones song and let him go.
Will played songs old and new to fans who were there seeing him for the first time to fans who were there seeing him for the 40th. He and his band, including a new keyboard player, were pretty flawless. The set kicked off with the first track on the new record "A Different Man." After playing the title track "Never Give In", which he dedicated to everyone there that night, they took it down a notch to "play a sad one." "Trying To Be A Man" is definitely one that tears you up, but in a way that a good song should.
The set went straight up rock and roll with "Ms Williams" and "Sex Lies & Money" to country with
"Strong" and "Secondhand Heart" with a generous amount soul throughout.
It was a testament that his loyal fans were in attendance when he played one of his older songs, "Highways Home." He stepped away from the microphone and the audience continued singing knowing all of the words. He has said his music was always considered too rock for country and too country for rock, but now that the country genre seems to be expanding, he seems to have found someplace where his music can be embraced. After a set of 18 songs, he and the band left the stage, but to everyone's delight they came back for four more songs. It was a fantastic night of music that left you wanting more. He closed out the night with "Lover Tonight" (off of The Man Who Killed Love album) coming down off the stage whilst singing and walking to the exit where he stayed and met fans.
Sunny Sweeney opened for Will. On stage, she is extremely funny and personable. Sunny is a solid singer songwriter who played old songs and some from her upcoming album (which is fan funded via Pledge Music). Songs she sang included "From A Table Away," "Carolina On The Line," "Drink Myself Single"
& "Bad Girl Phase." Sunny can also be heard daily on the radio as she is currently one of the morning personalities on NASHfm in NYC.
Will Hoge's current single "Strong" is at country radio now. His album 'Never Give In' can be purchased at online retailers. Start with this one if you don't know his music, then work backwards and get his entire catalog, promise you they'll be those records you play over and over again. For more information visit
http://willhoge.com/wired/