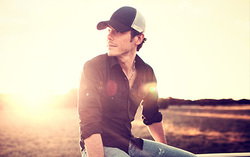 Granger Smith
, country music artist and proud patriot, is lacing up his BOOTS once again for the fourth annual
Boot Walk
, May 4-8, 2014. Granger will begin the 100-mile trek in Austin, Texas and will spend five days wearing out those combat boots all the way to Fort Hood. At the conclusion of the walk, on May 8th, Granger and special guests will celebrate with a concert honoring the men and women who serve our country.
"Boot Walk started as a crazy extension of my entertainment tours in Iraq as a way to say thank you to our armed forces. Now at year 4, it has turned into a very passionate fundraiser to me," said Granger Smith. "I firmly believe that my career as a musician is enabled by the brave men & women that ensure our freedom. There's not a month in the year now that I'm not wearing combat boots and thinking about the next 100 miles."
"This year, we have had added new components to Boot Walk in an effort to allow Granger's fans to join him and show their support," said Deanna Kenisell, Co-Special Events Coordinator for Boot Campaign. "We are excited to have more people join in the Boot Walk experience with Granger and make a bigger impact on our desire to awaken the patriot in us all and give back to our troops when they come back."
Granger and friends, including Josh Grider, Cody Bryan and Brian Keane, will perform a concert on May 8th at the Fort Hood Harley Davidson located at 875 W Central Texas Expressway, Harker Heights, TX. Tickets go on sale March 21st on
http://BootWalk.com
. Concert tickets are $10 in advance, $15 at the door. Admission is free with a Military ID.
This year, Granger aims to collect $50,000. Proceeds raised from the Walk and concert benefit the
Boot Campaign,
a non-profit dedicated to promoting patriotism, raising awareness, and providing assistance to military families.
To find out how you can help by raising funds, hosting a "shadow walk" in your hometown, volunteering, and more visit
here.