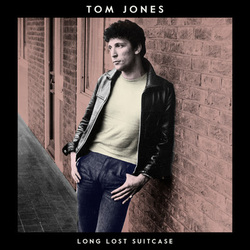 Pre-Order Long Lost Suitcase here: https://itunes.apple.com/us/album/long-lost-suitcase/id1057529279?ls=1&app=itunes

Fans who preorder the album will immediately receive 5 tracks: "Take My Love (I Want To Give It)," "Elvis Presley Blues," "Factory Girl," "I Wish You Would," and "Why Don't You Love Me Like You Used To Do?"
On December 4, the legendary performer
Tom Jones
will release a new album
Long Lost Suitcase
on
S-Curve Records
. The thirteen-song collection produced by multi-instrumentalist
Ethan Johns
keys into Jones' long and eventful life, and draws performances of consummate maturity and pulsating vitality.
Ethan, son of Rolling Stones producer
Glyn Johns
, is uniquely talented in his own right, as his work with
Paul McCartney
,
Laura Marling
,
Kings of Leon
and indeed Jones, has shown. "Right from the start, Ethan and I were on the same page," says Jones. "We think the same. I can trust him. Before the first album, he said, 'I hear something in you that I don't think has been tapped before. How about we go into a studio, take some musicians, work through some songs, and just do it live, on the fly? I think some great things will happen.'"
Long Lost Suitcase
was mostly recorded at The Distillery, a little known studio facility in Wiltshire built by Sam Dyson, son of inventor James Dyson. Some of the players are familiar from Jones' previous albums, including drummer
Jeremy Stacey
(who also plays in
Noel Gallagher's High Flying Birds
), bassist
Dave Bronze
, and of course Ethan, who plays guitar or keyboards on most tracks. New to the team was
Andy Fairweather Low
, a fellow Welshman and peer of Tom's from the early '60s R&B scene, who started out in The Amen Corner, and later proved his guitar mastery on tours with
Roger Waters
and
Eric Clapton
.
The result is a powerful collection of thirteen newly-recorded songs that include the Celtic hoedown "Honey, Honey" by The Milk Carton Kids, the rollicking R&B tune "I Wish You Would" originally by Billy Boy Arnold and made famous the Yardbirds, a stripped-down version of Willie Nelson's "Opportunity To Cry" and many more.