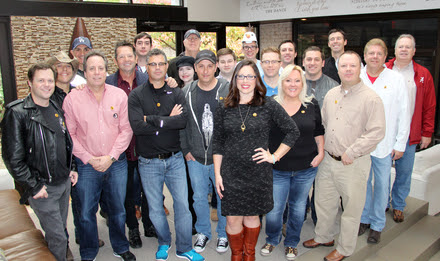 Celebrities and music industry professionals gathered at the CMA office building on Friday, October 31st to capture their freshly shaved faces in support of No Shave November. Pictured (L-R): Front Row - Christian Bottorff (CMA), Bill Macky (Black River), Brian Rhoades (Black River), Greg McCarn (Black River), April Johnson (Country Aircheck), Robin Rhodes (Premiere), Josh Easler (RCA) Middle Row: Sean Patrick McGraw (Artist), Tim McFadden (Tim McFadden Management), Wendy Newcomer (Country Aircheck), Reid Benson (The Primacy Firm), Keithan Melton (Magic Mustang Publishing), Ethan Helms (Cold River), Keith Kaufman (Center Stage Tour Productions) Back Row: RJ Curtis (All Access), Ben Balch (CMA), George Briner (Valory), Chris Loss (Stoney Creek), Chris Skinner (The Primacy Firm), George Meeker (State Farm), Mike Wilson (Black River)....Photo Credit: Christian Bottorff
Nashville, TN (October 31, 2014)
– Participants of the fourth annual No Shave November
benefiting
St. Jude Children's Research Hospital
united at the CMA building in Nashville on Friday, October 31st, to capture their freshly shaved faces before the competition was underway. Music industry and radio station professionals, along with some of today's hottest country stars have thrown away their razors for the month, and are allowing their facial hair to grow freely.
Donations raised through November will help St. Jude continue to find cures and save children with cancer and other life-threatening diseases. Supporters who were unable to attend the group photo are encouraged to post a date-stamped Day 1 photo to
www.facebook.com/nsnforstjude
. Capping off the campaign, awards will be given for best beard, the worst beard and many more during the celebrated "Beard Bash" in Music City on December 1st.
No Shave November is using all platforms to encourage the music industry to recruit as many men (and dedicated women) as possible to join the team, and to donate at least $30 to St. Jude Children's Research Hospital. This year, Lady Antebellum's Dave Haywood, has been appointed as 2014 Chairman of the Beard. In 2013, NSN raised an impressive $220,000 for the organization, with $396,000 raised over the past three years to support St. Jude.
Participants can still register at
www.nsn4sjk.com
About No Shave November:
Possibly the most ingenious charitable scheme ever devised, No Shave November helps some of the world's sickest children by asking participants to do nothing. Literally. Knowing that shaving sucks time out of each day and money out of men's wallets, a couple of guys at a Nashville record label came up with a plan: Stop shaving for a month, but put a positive twist on it by donating the money saved - at least $30 - to a worthy cause like St. Jude Children's Research Hospital. In just three years, the effort has spawned thousands of beards and, more importantly, thousands of dollars in donations to St. Jude.