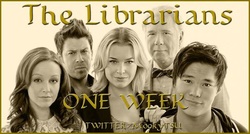 The Kaniacs are happy!! Christian Kane is set to star in the new TNT series The Librarians. In the show, a group of librarians set off on adventures in an effort to save mysterious ancient artifacts.
Based on the TNT TV movie franchise "The Librarian," the
10-episode drama series
features actor Noah Wyle reprising his role from the movie series alongside Rebecca Romijn and a cast that includes Bob Newhart and Jane Curtin as well as John Larroquette, Kane, Lindy Booth and Matt Frewer.
The Librarians p
remieres December 7th on TNT 8/7C