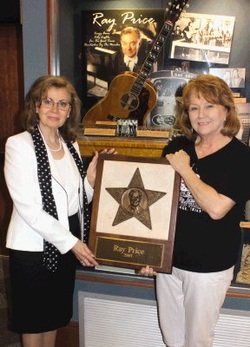 Nashville, TN (January 30, 2015) - A special exhibit honoring Country icon RAY PRICE and titled "
For The Good Times"
will be unveiled onSaturday, February 28 at the
Texas Country Music Hall of Fame
in Carthage, Texas. The new display will feature over 60 of the star's personal items, and represents Ray's many career accomplishments and his lifelong commitment to his craft. Following a 10 a.m. ribbon-cutting ceremony, fans can tour the exhibit for the day, free of charge.
Among the treasures they will see:
A custom Nudie suit
Ray Price Cherokee Cowboy tour jacket circa 1950s
Grammy Award for 1970 Best Country Vocal Male for "For The Good Times"
Billboard Award for 1959 Best Single of the Year for "Heartaches By The Number"
Cash Box Country Awards for 1959 Best Country Male Vocalist of the Year and 1988 Best Country Male Vocalist of the Year
Academy of Country & Western Music 1970 Album of the Year for"For The Good Times"
Custom saddle designed by Billy Cook
The President's Cup Aksarben trophy awarded for First Place win by Price's Thoroughbred Sea Phantom (1971)
Letter from Lyndon B. Johnson (1972) thanking Price for personal performance
The
Texas Country Music Hall of Fame
Band
will provide entertainment, and numerous special guests are expected to appear throughout the day. Ray's widow, Janie Price, will be on hand to discuss the exhibit's special items and to sign autographs.
A 2006 inductee into the
Texas Country Music Hall of Fame
, Price's previous exhibit was "a bit smaller," according to Janie. "With the excitement of his new CD,
Beauty Is ... the final sessions
, the Museum wanted to enhance Ray's display, and that tied in nicely with a 3,000 square-foot expansion to their existing exhibit space." She adds, "Ray was so proud that he was able to accomplish his dream of becoming an international star, but he was most proud to be a Texan, and to be able to give back to his home state. To have this new exhibit so close to home, as we continue to write the last chapter in his life story, is a special honor."
Tommie Ritter Smith of the
Texas Country Music Hall of Fame
notes: "We are thrilled to have formed this partnership with Janie to honor the great Ray Price. He was very special to us. We hope his fans will visit our exhibit and love it as much as we do."
Although Price passed away in December 2013, accolades and awards continue to pour in. The
Beauty Is ...
project garnered a unique
Honorable Mention
on Billboard.com's
The 10 Best Country Albums of 2014
list, and grabbed the #1 spot on TheNashvilleBridge.com's
Top 10 Albums list
. The disc debuted at #22 on
Billboard's Top Country Albums chart
, giving Ray his highest solo appearance on that chart in over three decades. Additionally, his duet with Martina McBride,
"An Affair To Remember,"
scored as #8 on the Hotdisc International Chart's
Top 30 Most Popular Songs of 2014
list after three consecutive weeks at #1. Recently,
ESPN-TV
soundtracked their
College Football Playoff
ads with Price's
"For The Good Times"
and
Country's Family Reunion Tribute To Ray Price
aired on
RFD-TV
. The CD, on Amerimonte Records, can be purchased at Cracker Barrel Old Country Store® locations, Hastings Stores, Wal-Mart, Amazon and other retailers.
Photo Courtesy So Much Moore Media