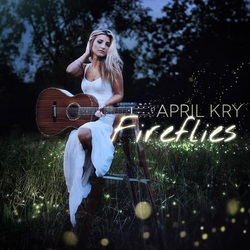 NASHVILLE, TN (March 31, 2015) –Country singer songwriter April Kry is known for her sweet personality and her summertime soothing vocals. Now this Nashville starlet will be known as one of the Top 25 artists to be selected as a 2015 Macy's iHeartRadio Rising Star!
Voting kicks off Tuesday, March 31st and ends Monday, April 26th! Fans can vote at iHeartRadio.com/RisingStar or on Twitter by using #RisingStar and mentioning April Kry.
Fans can also enter to win a VIP Trip for two to the iHeartRadio Music Festival 2015 including tickets for both nights as well as entry to the Festival Village, airfare, accommodations and an exclusive meet-and-greet with the Macy's iHeartRadio Rising Star winner. Fans can win by simply adding #Sweepstakes to any social #RisingStar vote to enter to win the VIP Trip.
Fans love April Kry, because she pours her heart into her music and it resonates with fans. "The reason I love music is that it brings people together. I truly believe that the lyric is the heart of a song, and without substance, you won't make a lasting impression. It doesn't matter where you're from or what language you speak, music is a universal language and if I can touch just one person with a melody or a lyric of mine, I've done my job as an artist."
About April Kry: April may be new on the music scene with songs like "Beauty Queen" and "Character", but she is definitely a superstar! Following the release of her "Music Speaks" EP, April's music has been featured on TV shows such as Love Games on Oxygen and MTV's The Real World. She also struck up a musical partnership with Javier Colon, who is best known as the winner of The Voice's first season. April's new song "Fireflies" has an infectious melody paired with fun and youthful lyrics that make you long for first loves and endless summer nights.
Follow April at:
www.facebook.com/aprilkry
www.twitter.com/AprilKryMusic
www.instagram.com/aprilkrymusic