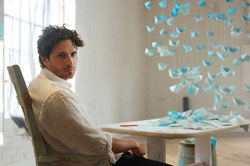 On November 13th,
Phillip LaRue
will release his new solo album,
You
,
through Razor & Tie. Today, the Nashville-based songwriter shares his music video for the single "Memories." The video is currently streaming on
Idolator
, who writes "'Memories' as a song itself is completely weighted with heartfelt emotion, and the video takes that to new heights."
Watch: Phillip Larue - "Memories"
http://www.idolator.com/7609754/phillip-larue-memories-video-love-premiere-watch
The emotive performance and pristine visuals of "Memories" reflect the moment which inspired LaRue to write the song. "I came up with the idea for this song after I couldn't sleep and I watched my wife sleeping for a bit..." writes LaRue. "Then I began trying to remember some of our favorite memories together, which led me to leave early in the am to head to the studio to write this song. Life is fleeting but thats what makes it lovely. When I told the Director Ryan Hamblin about how the song came about we decided to make something simple, real and raw that represented the very reason why I wrote this song."
On his forthcoming album
You
, LaRue draws from vivid personal memories and family connections to create the album's 10 soulful tracks, each resonating with his own personal story and striking lyrical craftsmanship. The individuals closest to LaRue populate the album, from the shimmering acoustic guitar of "Sweet Love" that paints a vivid picture of Phillip's bond with his infant son, to the plaintive orchestration of "Diane", which reflects on grandmother's struggle with dementia. In describing
You
, LaRue writes, "There are moments where it's just me and an acoustic guitar; then there are moments that are musically more lush, ethereal and dramatic. My album is a mixture of those different worlds, and hopefully it encourages people to lean into the lyrics and melodies."
LaRue has solidified himself as an in-demand songwriter over the course of the past decade. He co-wrote the #1 gold-certified hit "Whiskey In My Water" for
Tyler Farr
, and his music has received high-profile placements on programs such as Nashville, The Vampire Diaries, and Pretty Little Liars.
Facebook -
https://www.facebook.com/philliplarue
Twitter -
https://twitter.com/Philliplarue
Instagram -
https://instagram.com/philliplarue/