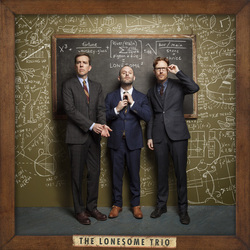 Nashville, Tenn. (April 30, 2015)
- The Lonesome Trio, featuring Ed Helms, Ian Riggs, and Jacob Tilove, is set to release its long-anticipated self-titled debut album June 16 on Sugar Hill Records. The album, announced yesterday on
Rolling Stone Country,
blends acoustic folk, bluegrass and a hint of lovelorn country
.
The group features guitar/banjo player Ed Helms, bassist Ian Riggs, and mandolinist Jacob Tilove, who have been creating music together for over twenty years after meeting at Oberlin College in the early '90s. Since then, their lives and careers have gone in wildly different directions - with Helms a successful actor, Riggs a full-time musician, and Tilove an architectural historian. But playing music and writing songs always brought them together. This is their first full-length album release.
Music truly is the tie that binds these three old friends, which is why this album – a chance for the world to finally hear the songs the trio has shared and tinkered with for years – is simply called
The Lonesome Trio
.
The Lonesome Trio
is a set of 12 original songs recorded with Sugar Hill's own Vice President of A&R Gary Paczosa (Alison Krauss, Steep Canyon Rangers, Sarah Jarosz) acting as engineer and co-producer. To create the record, the band chose to spend two weeks immersed in writing and recording at the Echo Mountain studios in Asheville, North Carolina.