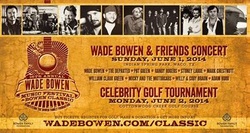 If only Texas and NY were closer......Wade Bowen's 16th Annual Bowen Classic will be held on June 1st & 2nd in Waco, TX. The golf tournament, which is already sold out, will occur on June 2nd. The concert/jam is held the day prior, June 1st, at Indian Spring Park and will include performances by Adam Hood, Micky and the Motorcars, Randy Rogers, Willy and Cody Braun (of Reckless Kelly) and more!! A great time for a good cause, why would you not be there???
Wade has said, "I truly love having the opportunity to help those in need, which is one of the many reasons the Bowen Classic is very important to me. I've been very privileged over the last 16 years to have such dedicated and hard working friends and family to help contribute to the success of this event and The Bowen Family Foundation. I look forward to continuing my efforts to raise money for others, while having a blast doing it!"
The Bowen Classic has raised close to a million dollars for charities that help children. Wade & his wife Shelby started their own foundation to raise money for kids in need & charitable organizations close to their hearts. Wade & Shelby not only want to raise money for these organizations, they also want to create awareness and support for these charities and those who turn to these organizations for help, in Wade's hometown of Waco, TX.
EVENT TIMELINE:
Sunday, June 1, 2014 - ConcertWADE BOWEN & FRIENDS CONCERT
Doors open at 2:30
Indian Spring Park
100 University Parks Drive
Across from the Waco Hilton in between Franklin and Washington Ave. From 1-35, exit 335C and head west.
Monday, June 2, 2014 – Golf Tournament
Cottonwood Creek Golf Course
http://www.waco-texas.com/city_depts/parks/cottonwood.htm
5201 Bagby
Waco, TX 76711
9 – 10:45am golfers register
11am Shotgun......Dinner and awards immediately following
For the where, when and lots more details visit
here.