Jake Owen www.kicks99.net

Jake Owen just had his 4th consecutive #1 with "Anywhere With You" off of his Barefoot Blue Jean Night album. He is performing on the Night Train Tour with Jason Aldean and is the father to 7month old baby Olive. He will follow up with a new single in August "Days of Gold", which will be on his next album.

Chris Young premiered the video for his new single "Aw Naw". Am sure lotsa CY fans out there are enjoying this one.

Brad Paisley at CMA Fest

On the Saratoga Springs, NY stop on his Beat This Summer Tour, fans brought 900 pounds of food and $400 in donations for the charity Feed Our Vets. This charity operates food pantries to end hunger and help keep vets and their families healthy. The collection was part of a contest and the winning food collector won a meet and greet and front row passes to the show.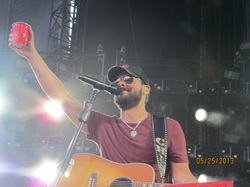 Eric Church
Watch the Beard Folks:
When Eric Church wrote
Chief
, he secluded himself in a cabin and grew a beard. Well, the beard growing continues for the new album. He told the Green Bay Press Gazette "I'm going to look like Old Man River before long.
I've had a beard growing the entire writing process and people keep asking me how the record's coming and I've told them, when I shave — when there's no beard — the record is written. That's what I can promise you, but until then, I'm still rocking the beard, and for me, it's about figuring out where we go from here." He went on to say the album is a ways away and will be out possibly next year. Until then you can catch him on Kenny Chesney's No Shoes Nation Tour.
http://ericchurch.com/tour