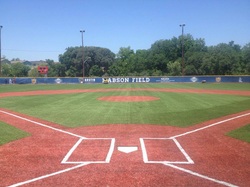 NEW FIELD MADE POSSIBLE THROUGH FUNDING PROVIDED BY THE BASEBALL TOMORROW FUND, RECKLESS KELLY, AND THE NOLAN RYAN FOUNDATION AND IN-KIND CONTRIBUTIONS FROM THE ROUND ROCK EXPRESS, RYAN SANDERS BASEBALL, SWANK SPORTS AND ASTROTURF®
Monday wasn't just Cinco de Mayo, it was also the day Mabson Field was unveiled in East Austin. Members of the Round Rock Express, Ryan-Sanders Baseball, RBI Austin, GEAYA and Reckless Kelly helped put the finishing touches on the new field.
Mabson Field is located in one of the most under-resourced neighborhoods in Austin. The new field will serve boys and girls ages 4-12
for Little League spring baseball/softball, the Jr. RBI Summer League, and year-round Jr. RBI clinics.
The hope is for it to become a life-changing center for baseball and softball in East Austin.
To begin the ceremony, Reckless Kelly sang the national anthem.
Former MLB players Greg Swindell and Curtis Thigpen, softball Olympian Cat Osterman and Cathy Bradley, the Executive Director of the Baseball Tomorrow Fund, were in attendance. A Junior RBI baseball/softball clinic took place immediately following the ceremony.
Reckless Kelly's
Celebrity Softball Jam,
now in it's sixth year, was one of the partners who made this new field a reality. Reckless Kelly's Cody Braun stated, "To take part in such amazing projects like the rebuilding of Mabson Field and to be able to give back to the Austin community by helping kids play baseball is exactly why we started this event 6 years ago. We are honored to be working with such amazing people and are excited to see everyone's hard work paying off in such a big way!"
This year's Celebrity Softball Jam (athleticism optional) will be held this Sunday, May 11th. For all of the details, visit
here.