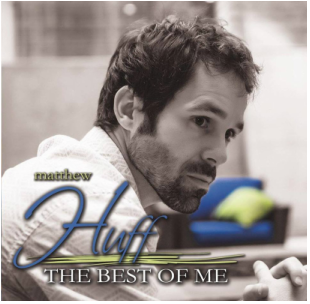 (Press Release) Nine Time Independent Award Winning Artist Matthew Huff is pleased to announce the release of his fourth album: The Best of Me on June 7, 2016.

The album was tracked and produced at Raney Recording Studio in Drasco, Arkansas, the same studio that he has used throughout his career. Jon Raney is a Multi-Grammy nominated engineer for his mixing/mastering. Raney is a third generation engineer, preceded by his grandfather, Wayne Raney (Country Music Hall of Fame) and his father Zindel Raney, both respected engineers and musicians in their own right.

Musicians on the album are Robbie Springfield (acoustic guitar, electric guitar, pedal steel), Mike Kennedy (drums), Dennis Wage (keyboard, piano, organ), Doug DeForest (bass), David O'Neal, Charlie White, Evan Seiling and Becca Bradley. This album features co-writes with Charles Barnes, Darren Barry, Lance Carpenter, and Mary Lynne O'Neal.

Matthew is grateful for the support of the radio stations who have played his music and credits the devotion of his fans for his success. With their donations of time, financial support, purchasing his albums and words of encouragement, he has been able to purse his love of music for the past six years. Matthew personally thanks everyone who has been supportive of his career.

Arkansas native Matthew Huff won multiple awards for his third album, Give It All I Got, in the categories of Album of the Year, Song of the Year and also won Country Male Artist of the Year at multiple Award Shows in 2014, 2015 and 2016. In 2011 Matthew Huff had the honor of receiving the George D. Hay Music Hall of Fame and Hoe-Down Award and was the Nashville New Country Star Winner.

Matthew Huff's album The Best of Me is now available for pre-sale on his website and will be available for physical release in June of 2016. A digital release date is set for later in the summer.
For information on Matthew Huff visit his website: www.MatthewHuffOfficial.com