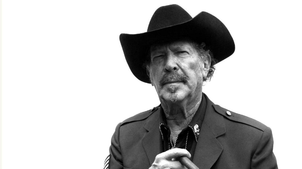 Governor of the Heart of Texas
Kinky Friedman
has been resurrected. And he's hitting the road to prove it
.
The legendary singer/songwriter, novelist and self-styled Texas Jewboy's latest album,
The Loneliest Man I Ever Met
, mixing originals with interpretations of the music of his greatest contemporaries, has been a hit since its 2015 release. It received rave reviews across the board, making it Kinky's best and most popular effort ever.
Kinky will be performing with his uber sideman, New Jersey's Joe Cirotti. Kinky's CD producer, Brian Molnar, will open the show as a duet with Joe and longtime pal Brian Kanof will auction off bottles (first half of the tour only) of Kinky's personal brand of "Mexican mouthwash,"
Man in Black Tequila
, to benefit Kinky's award-winning animal rescue group
Utopia Animal Rescue Ranch
. The Resurrected Tour will hit NYC April 17th. See details below.
Mon., April 17 th
B.B. King's Blues Club & Grill
NYC 237 W. 42d St.
Showtime:
7:30 p.m.
Tickets $50 and up
http://www.bbkingblues.com/bio.php?id=7925