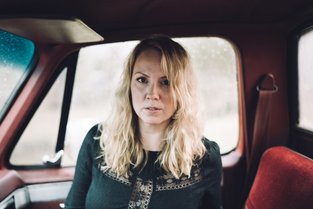 Seasoned Americana artist, and recent finalist in the 2017 Chris Austin Songwriting Contest,
Mary Bragg
will release her most personal album to date on May 5th with
Lucky Strike,
a ten-track collection that recounts life experiences in a way that is both honest and human.
One of the tracks from the project, "Done Ain't Done", details that oh-so-relatable experience of being in a relationship that by all accounts should be finished, but at the same time, keeps you reeled in. Bragg tells of the inspiration behind the song, "
Similar to writing "Wildfire," the timing was mighty lucky, in that my co-writer Stephanie Lambring had some fresh real-life fodder for the idea. It started with this riff I'd had on my guitar, and we talked for hours about how tough it is to walk away from a relationship that probably should be over - but you're not quite sure yet. You're arguing and going around in circles, and you're probably saying things you don't mean - and eventually, you realize that perhaps the relationship is not just worth salvaging, but worth fighting for to be salvaged."
"Hey, how do you figure
When it's time, time to pull the trigger
Can't help but stay, can't help but run
That's how you know what's done ain't done"
The roots-based track - led by acoustic guitar, percussion, and Bragg's emotionally honest delivery - may be based on the real life experience of one person, but it's a situation many have found themselves in. Bragg notes how writing something so personal, can also be universal,
"It's tough to say how to tap into it, but what I've learned is that the more honest you are, the more universal it becomes. When I write I always ask myself: 'Is that really how <insert emotion> feels? How would <situation x> play out in real life?' Breaking through any resistance to really be open I think makes the songs feel more universally applicable."
Lucky Strike
was recorded in a backyard barn studio, which Bragg says was old, not "expensive-vintage-old, just old", where the vocal booths are unfinished and recorded live means just that. Bragg shares that
"working in a rugged, imperfect studio allowed me to really focus on the songs and the performances, instead of being overwhelmed by how cool the experience/studio was (that's happened to me before). Eric's space - Eastwood Studios - is wonderfully representative of the vibe we wanted for these songs - honest and human, with no guise of inauthentic shine. "
Of recording "Done Ain't Done" in that space, Bragg explains,
" This one is about as live as it gets - we played it once. Once. I tracked vocals - what I thought would be scratch vocals - as the band was tracking, and I was also tracking my acoustic guitar simultaneously - which isn't something I do a lot, but after that experience, I'd sure like to do more of it. The vocals stuck, the take stuck, and that's what you hear on the record. It sure says a lot about the players who come in and absolutely nail it on the first take - and how much absolute fun that is. We didn't even do full-band pre-production for this record, so literally, this was the first time I'd heard it all come together - and I think you feel that energy on the record. I was beaming from ear to ear. "
It's an energy that's conveyed in "Done Ain't Done" where the listener feels, both in head and heart, the push and pull of the emotions in a relationship and how although they may be frustrating, they also may be worth fighting for.
TDC is pleased to premiere "Done Ain't Done" below.